Try Something New - Week 2
This week I've tried something new about how I record my "something new" s. I've written this blog post as a draft email adding details and thoughts day-by-day rather than as an end of the week review process. I like it. I feel that it allows me to add more details to the things I've tried. This is only possible because my lovely husband has written some code to allow me to email content to my blogs. Mainly so that I can post photos (more on that in a later post), but it also works for plain text or combinations like this.
I eat lunch at Bread and Milk once a month or so. And I usually opt for their pita options. On Monday I met a friend there and deliberately opted for their toasted Focaccia option. I didn't enjoy it as much as my usual choice, so not worth repeating.
A friend celebrated her birthday at the Sir Charles Napier pub on Tuesday evening. Not a pub I'd ever been into before. It was a lovely place to be. An open fire. Not too busy. Good food from their Thai kitchen. Not exactly local for me but I'd revisit if I was in the area. Also I opted for mushroom satay as a starter. Not something I've tried before but really liked this. And easily doable at home.
There is a lady who makes Turkish flatbreads (gozleme) in The Open Market near to the office. It's a really cheap lunch option. I've got into the habit of ordering the same thing from her. This week I deliberately tried something different and opted for the mozzarella option. It was messy to eat. But tasty. In fact, potentially a new regular option.
I noticed a playlist called Tastebreakers appear in Spotify the other day. It tells me its intention is "start 2019 by broadening your horizons. We've made you a playlist of songs from genres and artists you don't normally explore - and we think you'll like it". This may be a year old, but I've only just spotted it! It is too close a match to my "Try Something New" intention to ignore. So it was my office listening this week.
On Wednesday lunchtime, I took a stroll to the Phoenix Art Gallery to take a look at their current exhibition. A great way to spend part of a lunch break. A way to rebalance a little.
Sunbirds, another regular lunchtime haunt, had a spinach and feta bake on their specials board on Thursday. I have two regular go-to items at Sunbirds. The falafel wrap, and their vegetarian meze. Both of which are excellent. So it always feels like quite a risk to order something different. But I did. And it was good. A really lovely texture. And great sauces as well. Even if it didn't look quite as I'd expected it to.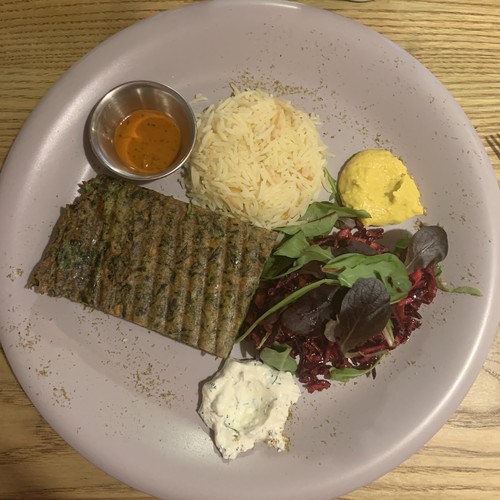 When I was thinking about things I'd never done and might be fun to try (and were readily accessible in Brighton), I thought about painting pottery. We've got a few places who do that here. I then thought about making pots, investigated and found that at least one of the pottery cafes does that too. Every month they do a two-session class. On the first week you make some pots. And then two or three weeks later you return to paint your pots. I signed up and went with a friend on Thursday to the January session. I made four pots - two by rolling and shaping, two by throwing (with support from excellent teachers). At the end of the evening we got to keep two as part of the deal and could opt to buy extras if we wished. So I'm returning in a few weeks to paint these three pots.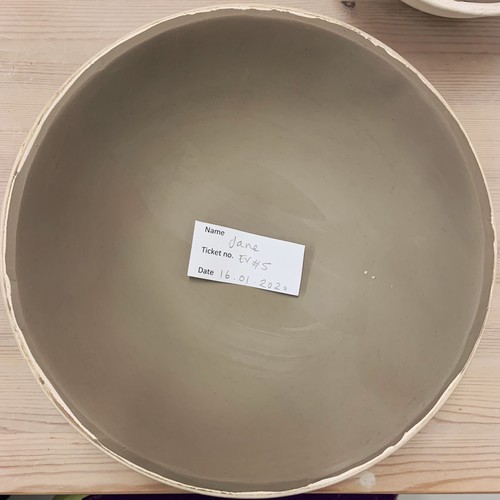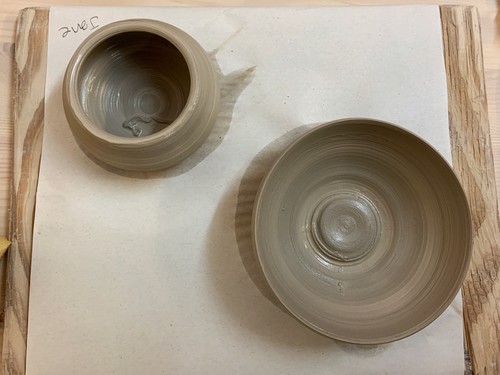 I enjoyed the experience. The tutors were lovely. The other course participants were friendly. I enjoyed the throwing experience the most. But I also found it the most nerve-wracking. Especially after one of the tutors used the phrase "Quit while you're ahead". She meant for us not to overwork the clay. (The word overwork is now always said in my head as it said by Paul Hollywood in Bake Off). She was encouraging and kept an eye on us, making amendments to the pots as we went along to ensure success. A really gentle approach. I enjoyed the sensation of the clay in my hands and watching it change shape as a result of gentle movements was wonderful. Mind you, I even found the wheel spinning pretty mesmerising. An enjoyable new experience.
I took a trip to Eastbourne on Friday to visit the David Nash: 200 Seasons exhibition at the Towner Gallery. A new exhibition to me, and I thought a new artist until I realised that I'd encountered his Seventy-one Steps piece at the Yorkshire Sculpture Park when I visited a few years ago. I've written more about the exhibition here.
As with last week, I decided to bake some cookies from my Chocolate Chip Cookies: Dozens of recipes for reinterpreted favorites recipe book. This week I opted for their Sweet Potato cookie recipe as we had some sweet potato in the cupboard. I had to send Richard out to collect nutmeg but other than that I had everything I needed. They're lovely and soft and a great texture. Possibly a little too much nutmeg but perfectly scoffable. And I don't think I could have told you they contained sweet potato if I didn't already know.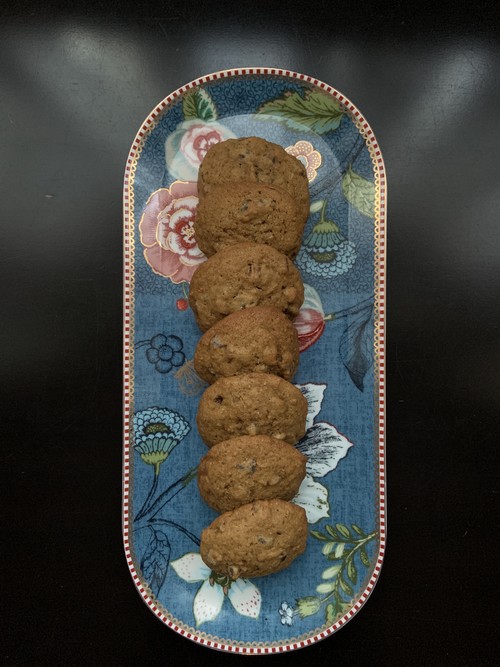 Last summer Barcombe Nurseries introduced us to The Feature Kitchen. It's a service that gets a Brighton/Lewes chef to put together a menu which can be delivered cold and reheated at home. We've eaten with them most months since discovery. This month's meal was Kenyan. We opted for the vegan option (as I'm doing meat-free January) of Ndengu stew (greengrams) with pilau, chapati, kachumbari & sukuma wiki (greens). I added some samosas to our order as well. It was really tasty, really rich flavours. I don't remember eating anything like this during our visit to Kenya (which was admittedly over 20 years ago so my memory of what I ate is a little rusty), so I'm counting it as a new experience. But one that I'd definitely repeat.
This process of writing as I go through the week has been lovely and enjoyable. So I'll continue it into next week I think.
For other Try Something New posts, and the explanation of this project/intention, visit this page.
comments powered by

Disqus