On the way back from a recent holiday - staying at Hull, Borders, East Yorkshire - we dropped by the Yorkshire Sculpture Park. I expected it to be an hour or so's distraction from the drive. Instead, we spent almost 5 hours there. I loved it.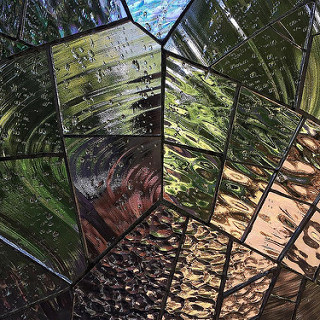 I'm not sure what I enjoyed the most - the grounds, the inclusivity, the sculptures. I guess it was a combination of them all. To start with the fact that the dog was welcomed in most of the grounds was brilliant. We managed to combine a 5km or so walk with looking at sculptures. And the dog loved the wooded area. I also appreciated that the map of the park marked some trails as being accessible for wheelchairs or prams. Not a concern for me personally, but shows a lot of thought has gone into the park.
There is a section in the "The essential guide to works in the open air 2017" guidebook that is for Family Activities. And it has some charming thoughts, words and questions in it. "The art here is for everyone, and we all have different thoughts about what we see. Everyone's response is important: we all bring our own stories and experiences as starting points". It then goes on to list some questions to help you think differently. I've written these down to carry with me as I feel that they're valid for all encounter with arts of any type. Not just sculpture.
The space that the sculptures had around them meant that we could walk around them, see them in slightly different light, from different perspectives, even touching them. All of this seemed to make it much more playful than an enclosed, quiet, museum setting. And so I felt I got a lot more from it. I'd love to have something like this close by so that I could visit and experience some of the sculptures in different weather conditions, and with different emotional states to see how my responses vary.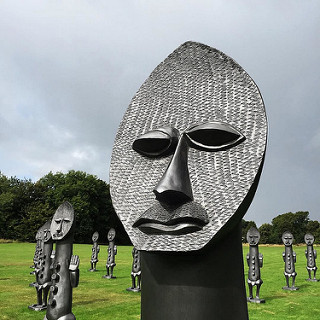 The 80 characters of Zak Ove's Black and Blue: The Invisible Men and the Masque of Blackness were incredible to see. The scale. The precision. The repetition.
I had an unexpected emotional reaction to Ai Weiwei: Circle of Animals / Zodiac Heads. I found myself standing there with tears rolling down my cheeks. I still don't exactly know why. But it was profound. And unusual. And special.
If you find yourself needing a break while driving down the M1, I'd thoroughly recommend a stop at the Yorkshire Sculpture Park. In fact, I'd suggest making it a destination in its own right. I suspect we will.
comments powered by

Disqus