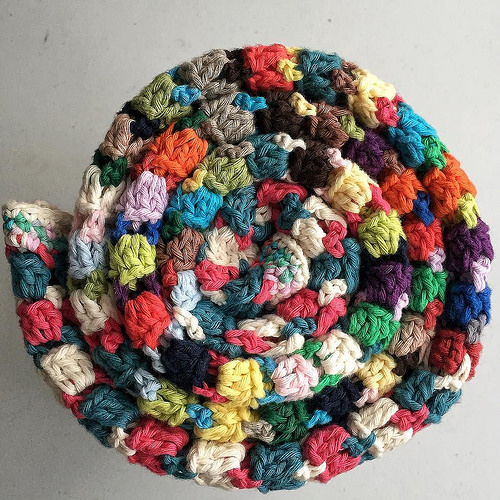 In October 2014 I started work on a new blanket for my Mum. I worked out the dimensions so that it would be a lap blanket and fit over her in her wheelchair. I already had some balls of Rico Design Creative Cotton Aran in most of their colour options and so decided that I'd use those as the cotton would be pretty robust and should handle high-temperature washes better than wool would. And it would be bright and colourful. I wanted to do something a little different to a standard granny square, so I took a quick look at Ravelry and spotted the Block Stitch afghan and liked how it looked.
I didn't want to have a standard, repeating colour pattern. I wanted it to be random so that it might hold a bit of interest for Mum. So, I put all the balls into a bag, picked one out, did a row with it, popped that ball into a second bag, and picked out another one. I did this until I'd done a row with each colour, and then I swapped the bags around and started again.
I'd made pretty decent progress over the autumn, Christmas and the New Year. And then Mum was taken ill and died. And I didn't want to complete it. I put it away in a cupboard where it stayed, along with all my other crafting items. Last Christmas I decided that I'd see if I could progress it because I thought it would make a good project that I could work on in front of Christmas TV. I didn't want to continue doing what I'd been doing though because that was designed for Mum, and she wasn't around anymore. So I picked my favourite three colour combination - fuchsia, petrol and natural - and bought five balls of each to work as a border using the same stitch, and I made some progress. But pretty soon I put it away again.
Just before Christmas this year I went to Hove Museum and spent some time in the craft area. I thought about Mum's blanket and thought it was a bit sad that it was sitting in an unfinished state in a cupboard somewhere. So I decided to try and finish it before this Christmas break was over. I bought no additional yarn, just used what I already had on hand. I continued doing the block stitch rounds until I didn't feel that I could get any more rounds out of the remaining yarns. I had previously bought a couple of balls of a multi-coloured version of the same cotton so did a single crochet border using that and finished it off with a final round of single crochet in natural.
Last night I sewed in the ends and did the final half a round of single crochet. I expected to feel relieved to have finished, or a sense of satisfaction. Instead, I felt sad. It was the last thing I started to make for Mum, and she didn't live long enough to see it, use it, enjoy it, or even lose it. I have no idea where this blanket is going to live - we're not exactly short of Jane-made blankets (1, 2 and 3), and I have one Mum made tucked away in a blanket box as well. But I can't give it away. It has too much love in it for that.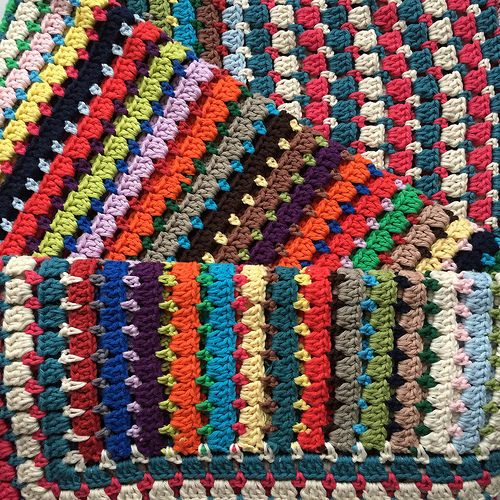 comments powered by

Disqus