My "not a straight line in sight" blanket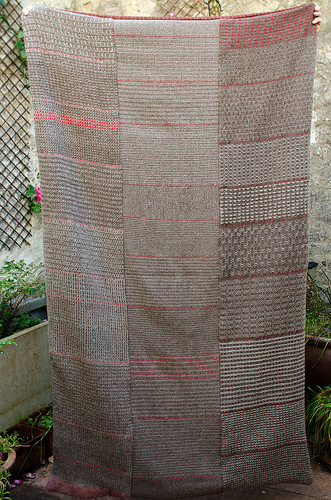 At some point towards the end of last year I started thinking about making a blanket on my loom. I knew I couldn't make it in one piece so I thought about making it in panels. My original idea was to have three panels which each had some feature colour at the same point so that I could line them up on assembly.
One of the projects in the Best of Handwoven: Rigid Heddle Pattern book is a blanket. It says:
Usually, when you are weaving panels (or garment pieces) with horizontal stripes that are intend-ed to be sewn together, you have to measure as you go and worry a lot about exact matches. A much easier way to deal with horizontal stripes is to plan for them not to match. A design with horizontal stripes in a random pattern can be balanced using an odd number of panels.
So that's what I did. It is all made out of three DK weight Blue faced Leicester wools. The two natural colours (light and medium brown) were by West Yorkshire Spinners. And the red one was Debbie Bliss. I roughly planned what kind of weaving each panel would be and then made up the heights as I went.
Weaving Project 51.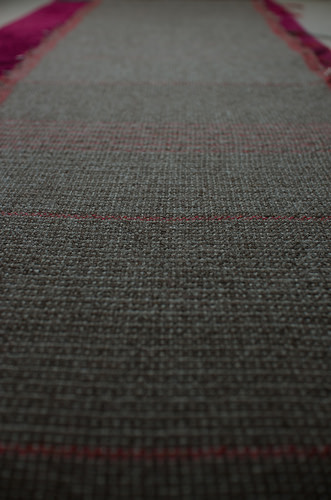 This is the central piece. I wove it with plain weave but continued the theme of the Colour and Weave Sampler. The warp was set up as 10 red threads on either end. And 180 threads alternating light and medium. The weft then alternated light and medium depending on the pattern I was following.
I had a lot of problems with the tension of my warp on this panel. It was a bit saggy in places. And the fell of my weft wasn't lying flat. As a consequence I invested in the Slots and Holes video so I could learn a bit more. This video is excellent. It helped a lot.
**Weaving Project 52. **
This is the panel on the left in the photo above. This was my first play with pick-up sticks. I'd planned a set of patterns to try based on the chapter in The Weavers Idea book. And I loved it. Lots of different patterns. Loads of potential. This used a light warp and a medium weft. And every one of these panels used a single pick up stick.
Having adjusted my warping method, thanks to the video, this was much better to weave. And I thoroughly enjoyed using the pick up sticks. So much so that I had a break before starting project 54 to make a scarf to match my bobble hat.
This was quite amazing. Under tension the patterns look one way. When relaxed some of them - especially the ones that are lace variations - look completely different. The book did tell me this would happen, but I hadn't been prepared for quite how much movement there would be.
Weaving Project 54.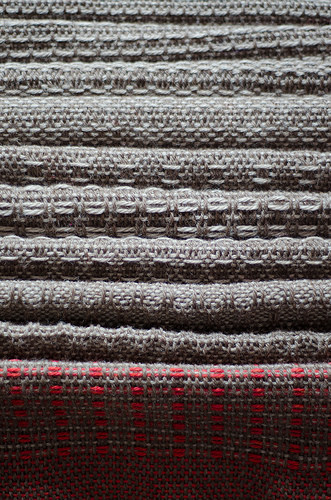 This is the panel on the right in the photo above. This used an all medium warp and a light weft. I also had an aran weighted light Blue Faced Leicester wool so some of these panels used that as a supplementary weft. Some of these panels also needed two pick up sticks. This was ok for the scale of this project but I can imagine that the inserting and removing of the second pick up stick gets tiring.
I set this project up with an extra thread - 201 rather than 200. This was so that I started and ended in a slot. This was a recommendation in either a book or the video. It did make a difference and so has become something I'll try and do every time I can.
Finishing
These were all finished as they came off the loom. My house isn't big enough to have three panels like this pinned out. I hand washed it at my usual hand finishing temperature and then rinsed and span them in the washing machine on the gentlest spin speed. Then pinned them out on the floor. They dried well. And started to take up a lot of space in my craft cupboard.
Assembly
When planning to make a blanket I had always assumed that I'd need to have a backing fabric. This was because I wasn't at all convinced that I'd have straight enough edges to be able to stitch them together without having a seam. I was right. In part because of my weaving skill. But mainly because the pick up stick panels all shrank at a different rate. This depended on how much extra yarn was packed in to the fabric. I bought some burgundy flannel to act as a backing. This gave me a width of 44" to work towards.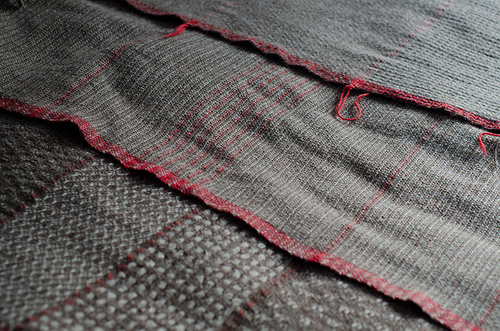 I had also always planned to hide the red selvedges. They were there to give me some guidance when I was weaving on how far the pick up pattern had to go. When I measured the panels out I worked out that I was going to be losing quite a bit more than just the edges to get it to fit. That was fine, it just made the stitching a bit trickier.
Attaching the flannel to the blanket was the kind of job that makes your back ache just thinking about it. It took two attempts. The first just ended up with a bulging mess. The successful one involved pinning the blanket, right side up, to the carpet. Then laying the flannel on top and safety-pinning them together. I then tacked them together in contrasting thread. The flannel has lines on it. I need to remember to never try and stitch something with straight lines on it to the back of a particularly wobbly weaving project. I couldn't work out whether I should use the lines on the blanket as a guideline, or the lines on the fabric. In the end I think the true answer is I used neither!
Having tacked the flannel to the blanket, the sewing together wasn't as bad as I feared. My little trusty sewing machine ploughed on through the many layers of wool and cotton. I did two rows of straight stitching and then zig zagged between to give strength. I left a gap down one side to pull the blanket right side out and then closed that gap with ladder stitch.
I'm pleased to have got this finished. It's taken a long time. 4 months from putting the first warp on. It isn't the best blanket I've ever seen. But it is the best I could do. There isn't any of it that I look at and think I could have done better if I'd just undone a bit. I'd like to think that I could do a better job now but that's what learning is all about right? I wouldn't do something quite like this again. It is great to have a blanket that doubles as a sampler. I have a whole load of notes that tell me which panel used which pattern so I can always use it for inspiration. But I think if I did another blanket I'd do the three panels all using similar methods. So that I could join them in a simpler method and didn't need to do the fabric backing bit.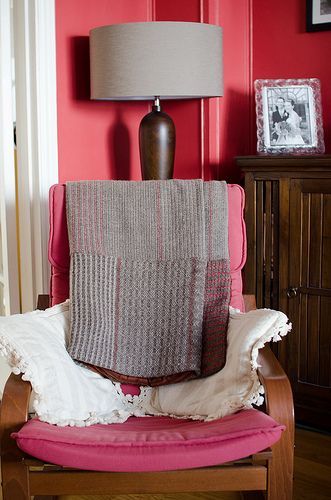 Of course, today is the warmest day of the year so far so I'm not feeling the need to snuggle under the blanket now. Shame!
comments powered by

Disqus