Crocheted rectangular granny blanket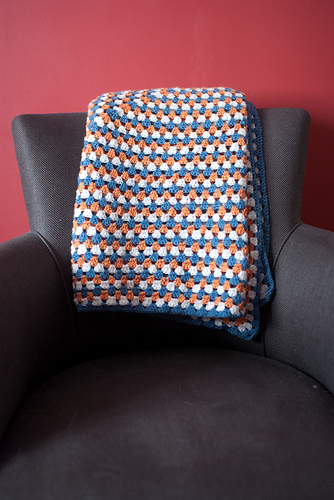 At the weekend I did the final round of my rectangular granny blanket. It was based on the pattern found at Granny Square pattern, with pictures as I realised that I didn't actually want a square blanket!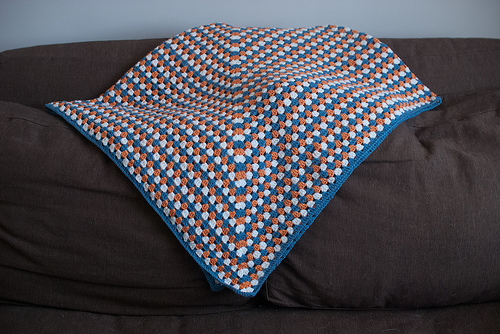 It is an easy to follow pattern, and after the first couple of rounds was incredibly easy to do whilst watching the tv or listening to music or whatever. It didn't demand a lot of concentration and I enjoyed watching it grow.
The completed size is 78" x 60", and there are 56 rounds, not counting the middle strip. It is edged simply with a single round of single crochet.
I used a 4mm hook, and 3 different DK yarns:
6 balls of Wendy Mode Vapour blue
6 Wendy Mode Whisper white
7 balls of Sirdar Snuggly Baby Bamboo in Tigger
It took a couple of months as a "whilst watching tv" kind of projects. The work took place mainly at home in Brighton, but also in Margate whilst visiting my in-laws and in East Yorkshire on a visit to see my Mum.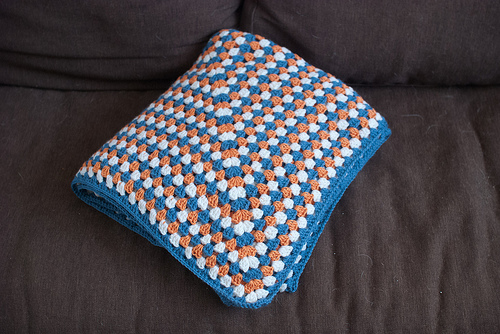 I have my next crochet project underway, which is a simple filler project to use up some of the mass of granny squares I made when I was first starting to crochet earlier in the year (as I've mentioned before I don't like wasting things). I am then planning to start on another blanket. This time my plan is to do something stripy so that I can use up some of the yarn mountain I've acquired in the past couple few months. Watch this space!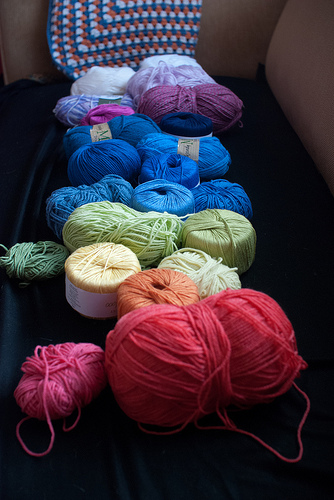 comments powered by

Disqus