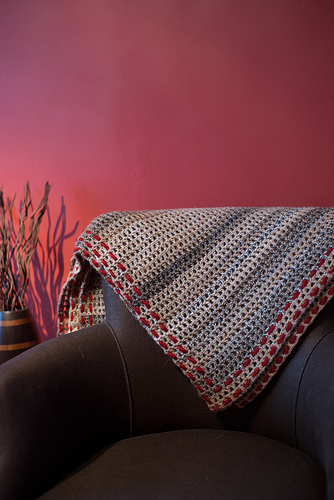 The last couple of blankets I've made have been gifts for other people. So I thought it was time to make another blanket for us. I'd enjoyed using the yarn I'd edged Mum's blanket with, and that I'd used as the weaving bit for my scarf so I took a look to see what neutral version there was that could match the colours of the furniture in my front room (copper coloured sofa, chocolate brown chair and red chair against red walls and oak coloured wooden flooring). I found one that varied from cream, through taupe, beige, grey and into a mid brown (MC9) and bought 6 balls of it. My intention was then to use some dark red yarn as a coordinating colour later on.
I started it just before New Year, and in fact, this was it's New Years Day shot as part of the projects in progress post: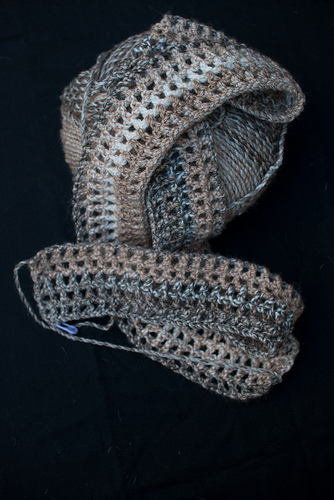 I did the same stitch that I did for my scarf as I fully had the intention of crocheting the framework and then weaving through all of the mesh stitches. The yarn, again, was a pleasure to work with. And it was a perfect tv watching crochet project. No real thought needed. I did, at one point, realise that my tension had gone to pot, so I needed to relax a bit more and rectify this. I seemed to get better and more consistent as I carried on having recognised this.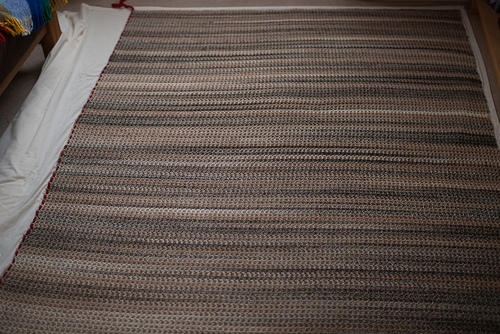 The tension problems meant that I had little choice but to block it into shape. But then I had a bit of a problem. Did I have anywhere big enough to block something that was 54 x 75 inches? I started off by pulling the double futon in the spare room onto the floor and trying that. But it wasn't big enough really. So, I ended up pinning a flat double sheet to the carpet and then pinning the blanket to that. For (my) future reference, the maximum size I can block to is 84 x 60 inches. More than that and I'll need to find a new house with a bigger space. Or start emptying furniture out of rooms. Both of which seem a bit excessive.
I'd been on the look out for some good super chunky red yarn, and after a failed attempt to get the one I'd spotted earlier (Sirdar big softie in cherry red) I found some SMC Select Highland alpaca at Liberty's (where I'd visited after going to see the Wool House exhibition) in a cherry red and bought that. I figured I'd buy one ball to start with, and use that to calculate how many more I needed to source as I feared that this could become overly expensive if I guessed rather than worked it out properly. This turned out to be a very wise decision.
I threaded one strand through the blanket, which can be seen whilst it was being blocked above, to see how it looked and how much I'd need. And then had a change of mind. I thought that weaving through every gap would make it too heavy - both in terms of colour, and weight. Consultation with Richard made it clear that he was in favour of a single thread running as a border around the edge of the blanket. I was concerned that this would be a bit too understated, and that the red was needed to give it a bit more oomph! After a bit more thought, and suggestions from my wonderful craft advisor, I decided to do two border threads, with a gap between. So, the final result is this, which I'm very happy with :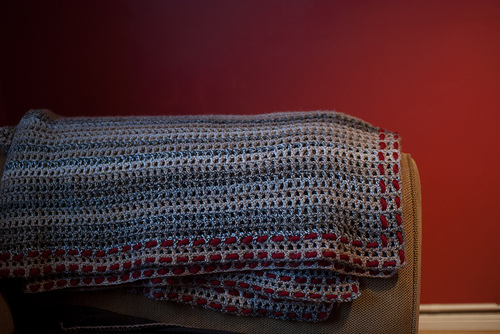 I've sewn the overlapping ends of the red thread together with a matching cotton as invisibly as possible, hiding the stitching behind the crochet. I hope that this will prove to be robust enought to hold it together.
Earlier in the week we tried it out for size - despite it being spring according to the calendar nobody seems to have told the weather that yet - and it fits the sofa perfectly, is a good colour match with both the sofa and the walls, and it fits 2 humans and 1 dog underneath it comfortably. Richard tells me it's his favourite blanket so far, and so the rectangular granny blanket has been retired from active duty.
All in all, a success!
comments powered by

Disqus