Last year I read 90 books. They weren't all 'worthy' - whatever your definition of 'worthy' is but some of them had some interesting thoughts that I wanted to come back to. So I made notes and stored quotes. But, there's a snag, I don't tend to revisit such quotes. And that seems like a bit of a shame. I did make up a notebook containing selected thoughts and exercises from the Self Compassion book, but that was all.
I often tend to have a Christmas project. In recent years it has been craft related - crocheted blankets, scarves, that kind of thing. But this year I decided to make myself a 'quote a day' diary for the year ahead. I'd found a beautiful diary in WH Smiths which was a page per day style with beautiful paper in it so decided that would be my starting point.
The next step was collecting quotes and thoughts. So I raided my positivity jug and picked some favourite moments out of there. I looked at the various tweets I'd made using the hashtag #smallpleasure and chose some of those. And then I went through all the quotes I'd stored elsewhere. I ended up with about 100 more than I needed which was brilliant as it meant that I could revisit my selection and remove ones that maybe weren't as relevant.
Once I had 365 quotes, I printed them all out, sat down with a metal ruler, a craft knife, a cutting mat and a Pritt stick and got to work. I'd underestimated quite how much extra depth glueing in additional pieces of paper were going to add to the diary. Note to self: if I do this again, reconsider the paper and glue thing - it was time-consuming!
So, here I am, day 17 of the year, and I have read them every day so far. My routine is that I read it first thing in the morning and, if it makes me think of something, or feel something, I write my thoughts and feelings below the quote.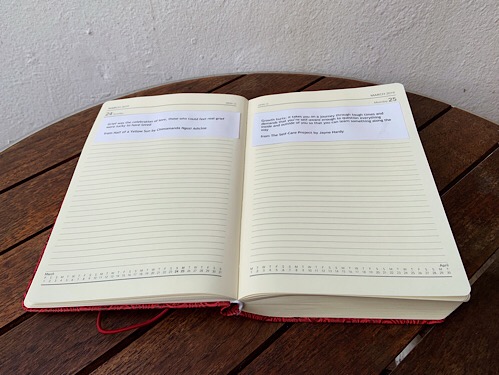 I love that this is a self-curated list of quotes based on things I've read, thought about and found relevant. I like that there is space for me to make notes. I think, already, that may be a quote a day is ambitious and that maybe another time I'd go for a quote a week. I feel with a weekly quote I could get a few different perspectives on it depending on how my week was playing out. I like to think I'd still consider it every morning, and maybe write a bit about it every day as well, but I feel that perhaps I'd be able to give it some further thought, and carry it around with me a bit more. I'll have to see how I feel about it towards the end of the year I guess!
comments powered by

Disqus