When crocheting and weaving collide: a Christmas craft project
I wanted a Christmas crafting project that I could take to my in-laws with me over Christmas and progress with during evenings in front of the tv. Something that didn't need too much concentration. My big coat doesn't fasten all the way up to my neck, and so I use a scarf to stop the wind blowing down my neck. Most of the scarves I own aren't wide enough to do this job effectively. So I decided I'd make a wider than usual scarf. And decided that this would be a good Christmas project - not too big to be unwieldy but ultimately useful and a good use of my time.
During summer a friend and I visited Nunnington Hall and whilst we were sitting in the tea garden this chap appeared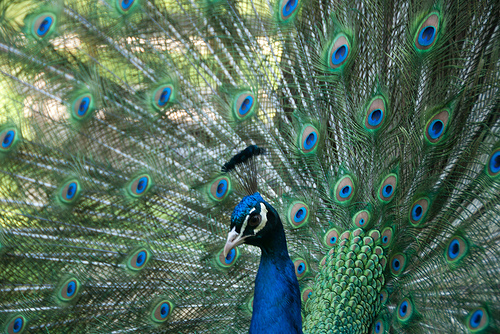 I've been thinking about his colouring on and off since then, and when I wandered into the Brighton branch of Tiger in November time and saw a turquoise aran weight yarn I thought I'd buy a stash of it (it was £1 per 50g ball so I ended up buying 10 of them). I'd been experimenting with some woven style crochet patterns and thought I'd try doing this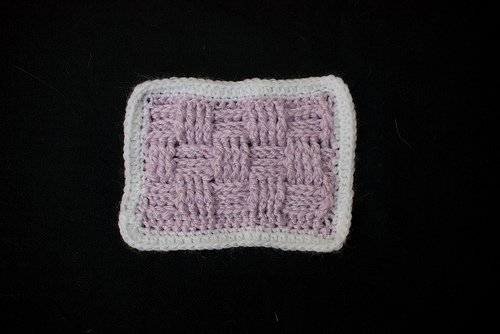 in a bigger size. It started ok, but by the time I'd finished the first ball of yarn up I decided not to proceed. This is where I got to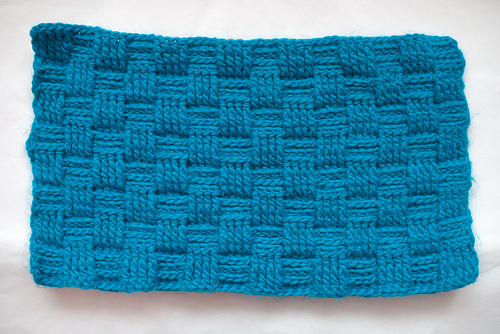 It looks ok, but it was slow going, and hard on the hands. And I don't think it looked amazing or as if it was taking so much effort. So I decided to leave it for a while and think about it. After a week or so I was still not in the slightest bit keen to pick it up and continue with it, so I decided to retire it. It's in the bottom of my crocheted crochet bag waiting for me to have a moment of inspiration on what I could do with it.
I had another look around ravelry for crocheted projects that had a bit of a woven look about them and came across these two (Topflappen mit durchgewebten Häkelschnüren and Textured washcloth/blanket). In the course of an evening I made another dishcloth/pot holder/coaster/something small and square that looks like this based on that first link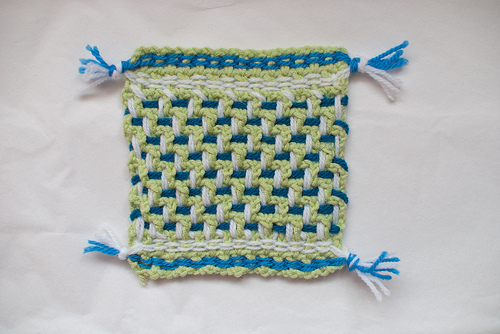 Much more like it. I thought that this would make a lovely scarf, although I wasn't sure whether I'd do the double weaving as per the sample (i.e. horizontal and vertical), or just single as per the other pattern. I figured I could work that out later. Having decided to try something like this, I ordered some more of the James C Brett marble chunky, this time in a blue/aqua/purple/pink/green combination (MC8) and hoped that it would go with the Tiger yarn ok. It did. Really well actually given that I just had a picture from a website to go from.
I decided to start this whilst I was in Hull visiting my Mum, and so Saturday morning saw me sitting in my hotel room, crochet hook in hand starting my Christmas project. After one initial mis-count and re-start, progress was smooth and I was amazed at how easy it worked up. It's just a simple mesh stitch, so one double crochet, one chain all the way along. A perfect tv watching project as it needed no counting (beyond the foundation chain). So far so good, but obviously there was no way to tell if the weaving part was going to work out. I needn't have worried as from the moment I put the first thread through the mesh I knew I was onto a winner.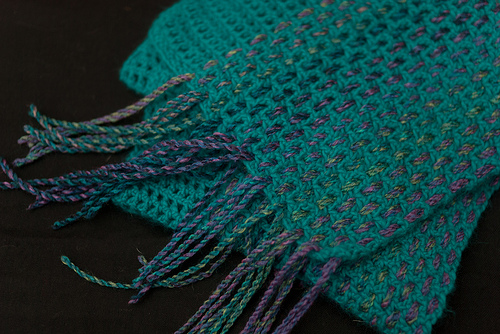 The weaving part took about half as long as the crocheting bit, so it isn't a quick finishing project, but it is really effective and I'm really pleased with how it has worked out. To secure the threads I decided to have a fringe, and to use some of the Tiger yarn to loop around the woven yarn and hopefully hold it in place. I'm not sure how robust this will turn out to be but it seems to be holding together, and it joins the colours together really nicely.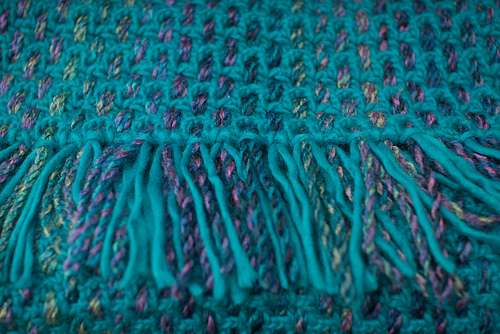 Overall it's fair to say I'm delighted with how this turned out (shame I can't say the same for the photos which aren't a great reflection of the colour - the first of them is closer). It could have been a little bit longer (it's around 62") - I think I lost a bit of length during the weaving although I've no idea how - but is a great width (10") and should work with my big coat just like I wanted it to. It's also really cosy. Now if it would only stop raining long enough to make me want to leave the house…
comments powered by

Disqus