Brighton Bloggers storytime
As part of the Brighton Bloggers meet-up I've been asked to talk a bit about the backstory. Here are my notes. It's been fascinating piecing this together, but I'd had have been lost with the fantastic wayback machine. If you enjoy this post, or my talk, please go and give them a donation.
The story of Brighton Bloggers is part social, part technical, and part personal.
Timeline
October 1994 the first 'serious' blog appears
March 2001 My first blog post. We used blogger then. It was a blog I shared with Richard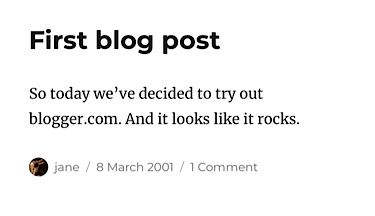 August 2001 Richard and I move to Brighton and join the Brighton New Media email group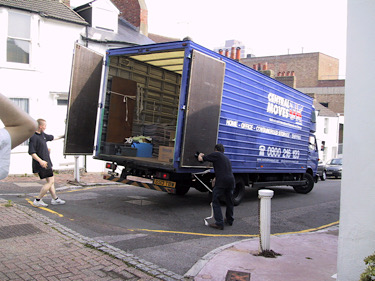 January 2003 Mark Walker for SCIP posts to BNM asking for volunteers to help him with the Brighton & Hove Virtual Festival. Richard and I sign up
June 2003 The Virtual Festival runs. Joh Hunt produces a list of Brighton and Hove blogs. Other people send links to their own during the festival

July 2003 I buy the BrightonBloggers.com domain name with the intention of giving this list a permanent home. Independently, Pete Barr-Watson emails the addresses he got from Joh to start organising a meet-up. We join up our activities
August 2003 I put both the meet-up details, and the very first list of 36 blogs on a very basic site while Jeremy Keith produces a design for the Brighton Bloggers site, and I knock up some PHP and get it 'live'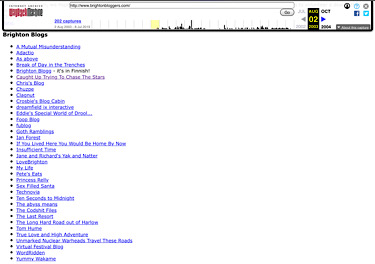 I'm interviewed for the Daily Mirror about blogging

August 28, 2003 The first Brighton Bloggers meet-up.. It is held in Grand Central
September 3, 2003 Brighton Bloggers gets its own blog
The rest of 2003 Three more meet-ups
June 2004 I create an OPML file containing all the blogs with an RSS listing making one aggregated collection of blog posts
2004 Meet-ups have become seasonal
October 2004 We have a meet-up at the Hanbury Ballroom to see Salter Cane (Jeremy Keith's band) play
March 2006 Twitter launches
2007 (I think) I start blogging here rather than just at the space I shared with Richard
January 2007 I create a flickr group to store meet-up photos in. And add the first set of photos after a January meet-up
July 5, 2007 A meet-up in the Black Lion. We produce an image showing the front page of each of the blogs listed on the site.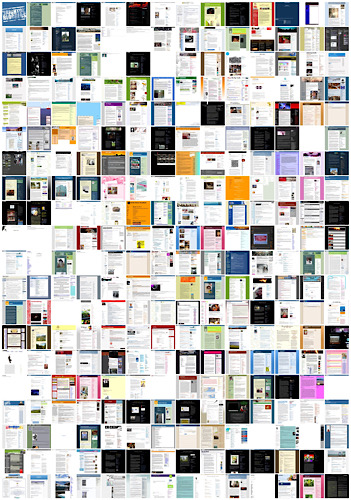 which gets printed out and interacted with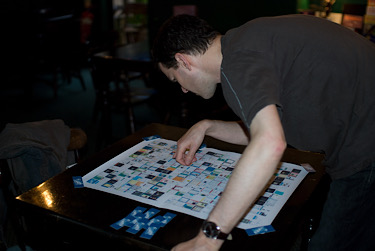 November 2007 to January 2009 Three more meet-ups
December 2009 My dog gets a blog to host her photos
February 2010 Blogger removes support for FTP, so I move my blog to posterous
April 2010 Brighton Bloggers gets mentioned in an article by the Guardian about the struggle local newspapers face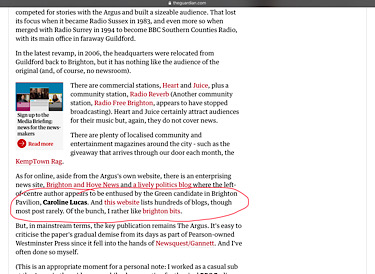 August 2010 A meet-up co-hosted by Argus bloggers is held on the beach. I think this is the last meet-up we had. The blogging community had been dispersed among other meet-ups and events. There are lots of events listed on upcoming (and later on lanyrd) and there doesn't seem to be much of an appetite for meet-ups about blogging anymore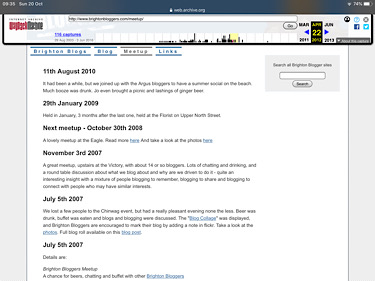 June 2012 I simplify the site and get rid of the blog, the meet-up listings and the links page. I also get rid of the aggregated RSS feed. This was to reduce the overheads so that I could continue to maintain the list of blogs which is what I'd set out to look after
October 2012 Posterous shuts down and I move my blog to telegram
2012 to 2014 I add blogs to the list when I get a request
January 2015 Telegr.am becomes unreliable and I move to a home-rolled Jekyll based site
2015 to 2019 I get emails from people asking to add their blogs every couple of months. I add them but do little other maintenance
August 2019 James gets in touch with the idea of organising a meet-up as part of the Digital Festival. This is the first time anybody has got in touch to propose such a thing in 9 years. I'm really pleased to lend my support.
Due to FTP issues on the co-located hosting I'd been using for Brighton Bloggers, we move it to a GitHub repository, drop the PHP and make it flat HTML, and host it via GitHub-pages for ease of maintenance. I also add another new blog
October 2019 I run a link checker against the list of blogs and have a cleanup. I get rid of quite a lot that aren't where, or in some cases what, they used to be
October 21, 2019 Brighton Bloggers meet-up as part of the Digital Festival organised by James
My thoughts
I'm finding it hard to believe that the site has been up and running for 16 years. While pulling this together, I've been thinking about blogging a lot, unsurprisingly. I've thought about my blog and about who I write for. I guess I've known it for a long time, but this exercise has cemented that thought. I write for me. Or, to be more exact, the future me. Little nuggets of what I was thinking, or struggling with. Clues to help me later when I have a "I know I've solved this before" moment. I have no regrets about having started blogging 18 years ago. What I've written has changed - many of my first blog posts would later be the kind of thing I'd tweet instead - but the why hasn't.
In summary, blogging isn't dead, and neither is Brighton Bloggers. The article that I referenced at the start says
One source, for example, estimates that more than 409 million people view more than 20bn blog pages each month and that users post 70m new posts and 77m new comments each month. Another source claims that of the 1.7 bn websites in the world, about 500m are blogs.
There are still over 350 blogs listed (though they aren't all actively being written to) on Brighton Bloggers. I've added new blogs every year for the past 16 years. And I feel a bit of pride for that.
If you know of a blog that is missing from the list, then follow the link at the bottom of the main Brighton Bloggers page and let me know. I'll get it added.
comments powered by

Disqus