Weaving Project #8, flower posey, flower square and granny squares
When I wrote about my Christmas crafting I mentioned that I'd made a batch of flower loom flowers. My plan was to make a small, 3 flowered, posey for my Mum to brighten her room up. When I got to start planning to put these together I decided that I'd get some ribbon to put around the "stalks". And then I thought a bit harder, and decided that I'd weave a wrapping for the stalk instead. So that's what I did. Using a different coloured version of the same cotton I used for weaving project #1 I made a 6 warp width strip which I ended up hemming - and got it to be a lot straighter and more even than the first attempt - so again, progress has been made. Here it is on the loom: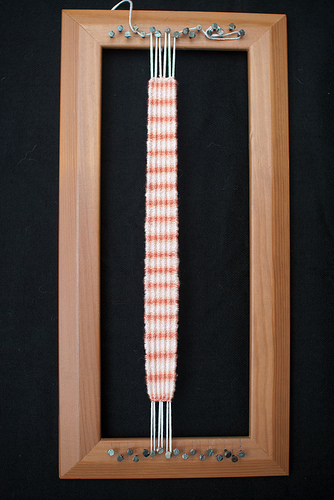 and here it is, barely visible, but wrapped around the stem of the flowers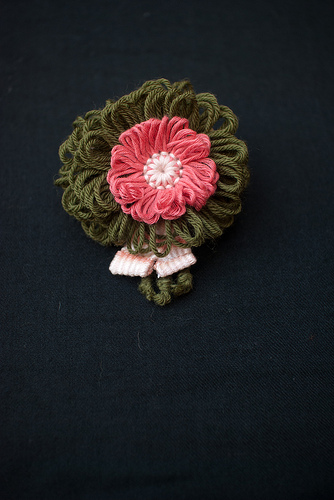 Realistically, ribbon would probably have worked better, but I'm really pleased to be able to take something to my Mum which is entirely made my me as I'm sure she'd appreciate that.
After attaching the flowers to my scarf a couple of weeks ago, I'd been wondering about the possibility of making a scarf entirely out of flowers. I'd spotted these instructions on how to join flowers together and set out to make a 3 x 3 square as an experiment.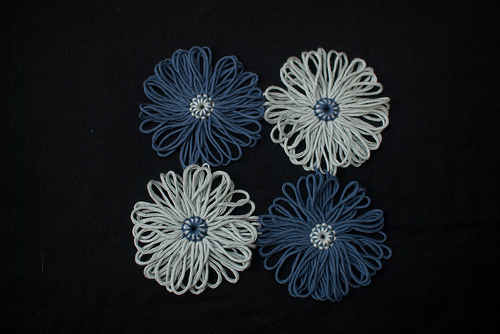 As you can see, that is a 2 x 2 square of woven flowers. I decided I wanted my flowers to be attached by more than just one petal, and so each flower is attached to any other flower by 3 of the back petals. So, the top left flower has 3 rear petals attached to its right hand neighbour, and 3 attached to its neighbour down below. I found this really fiddly, and frustrating and there was a lot of swearing and general grumpiness. That is why I decided to stick with a 2 x 2 square. Again, though, a good lesson in try something small before embarking on a larger project - if I'd been out and bought the yarn for a scarf's worth of flowers, I'd have been pretty cross with myself.
Towards the end of last year, I'd tracked down a local lady who did private crochet tuition, and learning to crochet was something I wanted to do as it was something my Mum could do, and therefore I thought I should be able to. I made an appointment, but ill health prevented me from going and seeing her. I rearranged my lesson for last week, and ended up spending 2 and a half hours with Joanne as she patiently taught me the basics. Consequently, the last week has seen me making granny square after granny square - 5 in total so far. 3 following these instructions, and 2 incorporating flower loom flowers following these instructions. Here they are with the right hand one being #1 (my first attempt that took 2 evenings and a lot of unravelling), through to #5 (which took a little over an hour) at the left. They haven't been blocked yet or anything.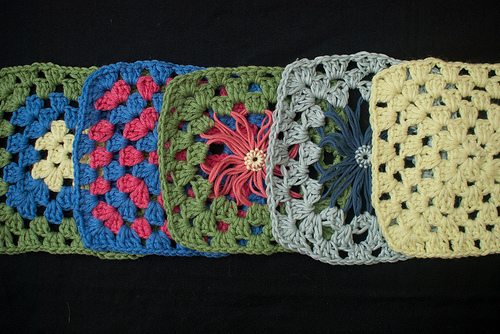 There are photos of them all individually too in my Granny Square set at flickr. My Mum made a couple of blankets using this design - not squares, just continuous circuits - and so my very simple aim of being able to do what my Mum could do is met. I'm going to be on the lookout for easy and simple projects that I can do to build on these starting blocks in the near future - so if you have suggestions, let me know.
Finally weaving project #9 is on the go - it's another bookmark, but is more complicated than the last one in that it is a repeating 6 warp x 12 weft design and so I need to concentrate on it to make sure I know which weft I'm working on at any one time and so isn't a "in front of the tv" project. I do think that it's starting to look pretty good (after 3 repetitons) and that, again, I'm liking the reverse of the bookmark just as much as the front. No photos until it's completed though.
comments powered by

Disqus