Following on from the failure of project #4 I bought some beautiful blue and some lovely duck egg wool and decided to return to the picture frame loom and try another bookmark. Again as a Christmas gift, and again a gift for someone who reads this blog so this post, like project #3, is hidden until Boxing Day.
I used the darker blue as a warp, and the duck egg blue as the weft, and the theories that I'd been building in my head turned out to be true. The reason why Projects #1, #2 and #3 were so tight, and dense, was because the space between the warp threads was much bigger than the weft thread I was using. Putting the wool on as the warp instantly looked like it filled the gaps better, even before I started weaving it. And this was exactly the case.
This was all done in a couple of hours (which it needed to be - the recipient is Richard, and he's only out for a little while and I still need to wrap it), as opposed to #1, 2 and 3 which all took days. And I love it. I'm really happy with how it turned out. It feels lovely, and looks pretty close to what I was trying to achieve.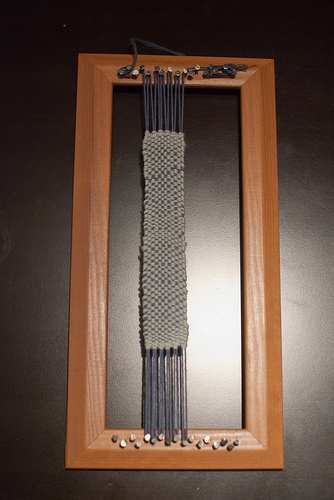 It was again finished using hemstitching and using wool as the warp gives the ends a lovely warm feeling.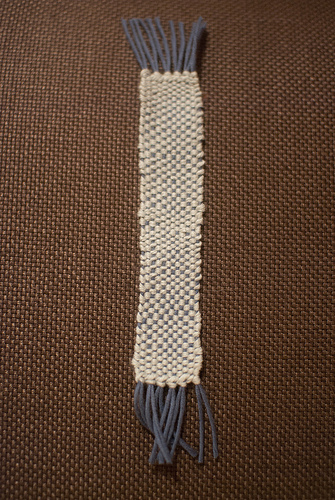 I see more of this in my future, next time working on trying to get a consistent spacing amongst the weft - I had problems with some of the yarn being twisted and other bits being straight. Now that I've got this bit working properly, I think the next thing will be to hammer out a few more bookmarks until I've got them coming out looking more polished, and then on to the sampler. But overall, happy!
comments powered by

Disqus