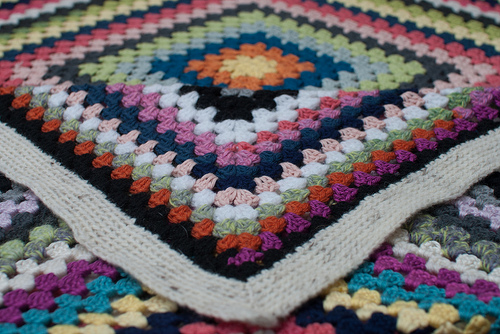 I didn't seem to be reducing my stash of yarn. The cushion did make a small difference, but I also ended up buying more to do the back of it. So that kind of equalled itself out really.
Early in May I thought I'd make a simple square blanket — as I quite like the growing aspect of squares — but would just work against a few rules to use up as much of my stash of DK yarn as I could. So, the rules were :
all the DK yarns in my stash were in play
all the yarns were grouped into light, medium, or dark. This was done in one pass, in daylight. As I worked with them I sometimes questioned whether some yarns should be moved or not, but decided that the first pass was the final pass. In retrospect, What I should have done was photographed them and converted it to black and white and used that as a way to determine the range. But, I suspect, this would have moved almost all of the greens into the light category which would have meant me buying more medium yarn. And that really wasn't the point of the exercise!
crochet until the yarn runs out but
always 2 complete rounds in the same colour range and
if the yarn runs out, then the 2 rounds should be completed in another yarn of the same range
after finishing 2 rounds in the same range, the next range is selected — light followed by medium, medium followed by dark, dark followed by light and so on

I initially tied to do a half double crochet square but it took too much concentration. This was intended to be a tv watching, low brain power project. So I decided to do a simple granny square using the Attic 24 summer garden square as the centre.
After many weeks, months probably, the square took shape and yarn supplies dwindled. Whilst ordering supplies for weaving project 31 I added a few balls of cheap and cheerful DK yarn to my basket - one medium and one dark for the main part, and a ball for the border. This gave me the chance to get a few more rounds done, and so, in total there are 60 rounds of granny square.
The border was done using single crochet for the first round, and then 6 rounds of back loop only single crochet. It is quite substantial, but works well and holds everything in place.
It's finished dimensions are 52" x 52".
I had the same problem blocking it as with the blanket I made earlier in the year and one night earlier in the week I could be found kneeling on the carpet in our spare room with a steam iron and a pinned out blanket. It all worked ok though, and no damage was done to the carpet!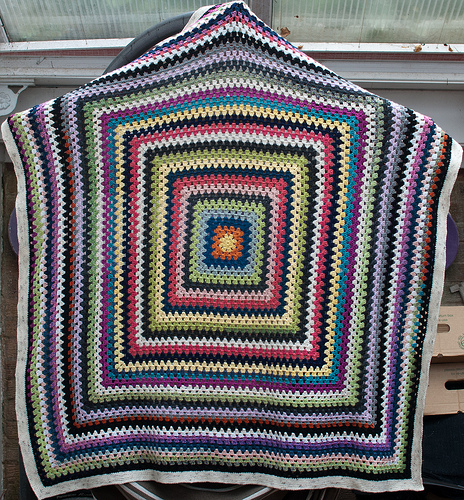 Initially, this was going to be a blanket for the garden, but as it is rapidly heading towards Autumn, I'm not sure that's what is going to happen. It may become a gift for my Mum, but that basically depends on whether I can get 2 blankets made between now and Christmas or not. It is living in a cupboard in our spare room waiting to discover its fate at the moment. I do like how it ended up looking so it will find a home somewhere.
Today, in an effort to use up a few more bits of stashed yarn, I made a dishcloth. Last year I crocheted a simple dishcloth when we were on holiday and the rented cottage didn't have one. It survived the week well, and we brought it home with us. After over a years use it has finally got to the point of no repair. It has lasted longer than any dishcloth we've ever bought though so I thought I'd do another.
I still had a few scraps of DK yarn left over, so chose one of the larger scraps and made up a pattern. I'm still a bit fond of the front and rear post double crochet stitches, so I thought I'd make a ribbed dishcloth. I got a notebook and pen and scribbled down some numbers and made a start.
Here's what I did (US stitches) using a 5.5 mm hook :
Row 1: 31 foundation row hdc, 2 sc and turn
Row 2: * 2 x fpdc, 2 x rpdc * Repeat between * a further 6 times, 2 x fpdc and a hdc into the end of the previous row. 2 sc and turn
Row 2: * 2 x rpdc, 2 x fpdc * Repeat between * a further 6 times, 2 x rpdc and a hdc into the end of the previous row. 2 sc and turn
Repeat row 2 and 3 until a good size.
Final row: hdc in each stitch

Border:
Round 1: sc around, 3 x sc in corner
Round 2: hdc around, 3 x hdc in corner
Round 3: sc around, 3 x sc in corner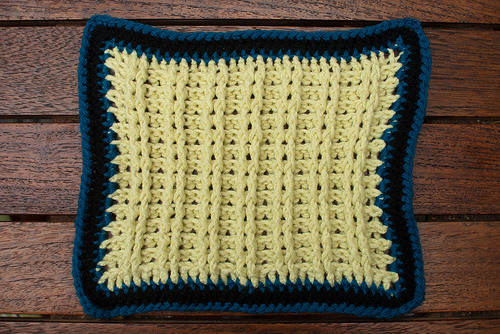 Because I was using up yarn, the body of my cloth isn't square but it has ended up being a reasonable and usable size. The reason for listing the pattern here, is because I really like how it ended up feeling and looking. And I'm considering it as a blanket possibility for Mum at some future point.
My yarn stash is much reduced. I've made a couple of useful items. All is well.
comments powered by

Disqus