Try Something New - Week 35
Sunday
While looking at the recipe for dinner in Jamie's Ministry of food, I discovered a recipe for cookies that I hadn't tried. So I decided I should. They're another different method - roll into a sausage and freeze before slicing. I opted for dark chocolate and chopped hazelnuts as my flavouring. As with last week's drop cookies, getting an exact size was tricky, but these cookies don't suffer for unevenness of size. In fact, I think they're better because if it. These are not in contention for the perfect looking cookie, but they're pretty high up the list for their taste and texture.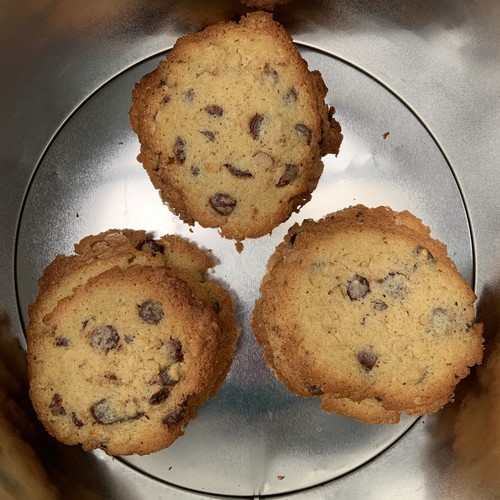 Monday
We ate out. Not something new in the grand scheme of things. But new in the post lockdown world. And it was somewhere new to us as well. We decided that a Bank Holiday breakfast out somewhere could be a good re-introduction to eating out. The first couple of eateries we'd thought of were busy with queues outside, so instead, we tried West Beach near the i360. We've walked past it lots of times, usually with the dog in tow, but never stopped in. It had well-spaced tables, and I felt as safe as I can imagine feeling anywhere at the moment. The upstairs deck has views over the West Pier, the beach and the prom all the way to Shelter Hall. A great people-watching spot. And I really enjoyed that element of our experience.
I stumbled across an article about the Notting Hill carnival going online this year so I thought I'd take advantage and watch some of the coverage. It's many years - 20 or so - since I last attended the carnival in person, but I remain a sucker for a steel band. Always makes me smile.
For more Try Something New posts, and the explanation of this project/intention, visit this page.
comments powered by

Disqus