Try Something New - Week 34
Sunday
A very different cookie recipe this week - blueberry yoghurt cookies. This recipe has two aspects that intermediate me. Firstly, it uses cups as a measure. I'm not a massive fan of this. It never feels precise enough for me and leaves me wondering how packed the cup should be. The second is that they are drop cookies and I'm much more comfortable with the roll in a ball method. As it turns out, I got half as many cookies out of the batch as I should have done, so I also have problems with sizing when using the drop method. They're an interesting bake. Somewhere between a cookie and a muffin. Very light and fluffy. And the blueberries exploded beautifully.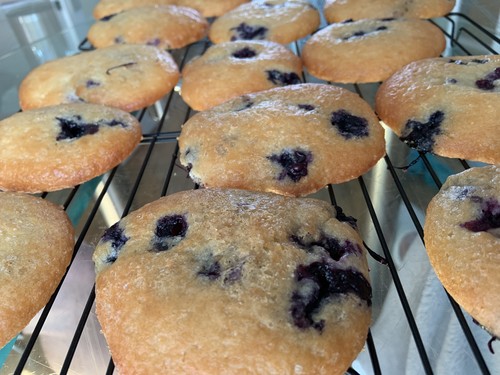 Friday
I had never been to the Cameron Contemporary Art Gallery tho I've walked past it on occasion and knew where it was. I also had an idea of what kind of space it was. As I build up confidence in going out to places again after several months of restrictions, I thought that their The colour of summer 2020 exhibition might be a gentle re-introduction. I was right. The gallery is one room which is visible in its entirety through the windows. So I knew that there wasn't anyone in there beyond the gentleman running it. When I walked in, he made a point of telling me that he would stay at his desk, but that I should speak up if I wanted to know anything. It was lovely to be surrounded by art again. And the exhibition was a great choice as it also featured sculptures and jewellery as well as paintings and prints. It made me realise how much I'd missed the artists open houses and the chance to see different things. The gallery space was light and airy and didn't feel unsafe in any way. I also found a picture that I'm seriously considering giving a home to. So a successful re-introduction to exhibition visiting, and a lovely gallery to spend time at. I will be going back.
Saturday
I've had my baking stone for a few months now, and I've been thinking about making drop scones on it since it arrived. Saturday was the day, but I didn't want to make regular, sweet drop scones. I wanted to make savoury ones. I found this recipe which called for ingredients I had in my fridge so I thought I'd give them a go. They weren't the most evenly sized batch of drop scones I could have made, but they cooked nicely and tasted good.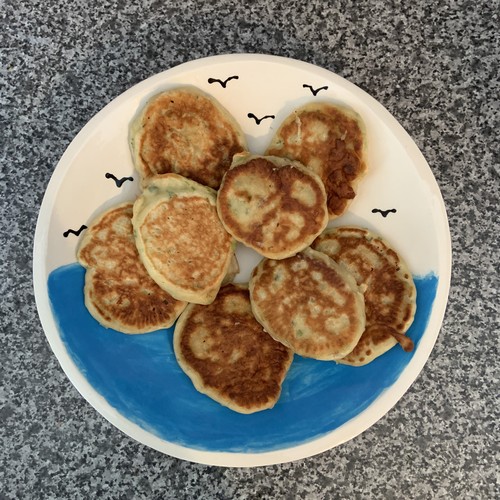 We ordered a delivery for Saturday night dinner as we have done since lockdown began. This week a quick search of Uber Eats led me to Haus on the hill's Caribbean menu. We're always on the lookout for good, local Caribbean options so this was too good an opportunity to miss. And it was good food — decent sized portions, and super tasty - especially the fish curry. I'm happy to have found them.
For more Try Something New posts, and the explanation of this project/intention, visit this page.
comments powered by

Disqus