Try Something New - Week 19
Sunday
My first attempt at Lavash flatbreads using the first recipe from the Lavash recipe book that CookBookBake delivered to me last week. It was a success, tho cooking them on an upturned wok was interesting!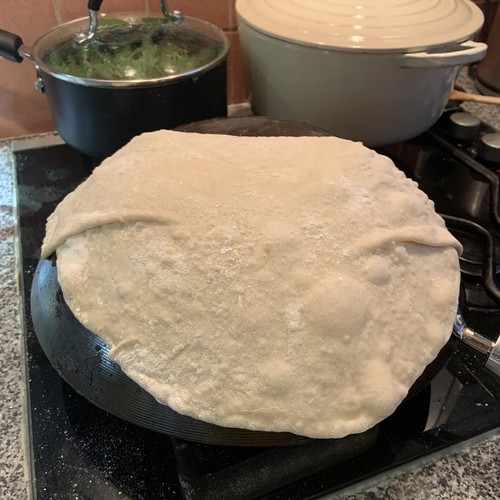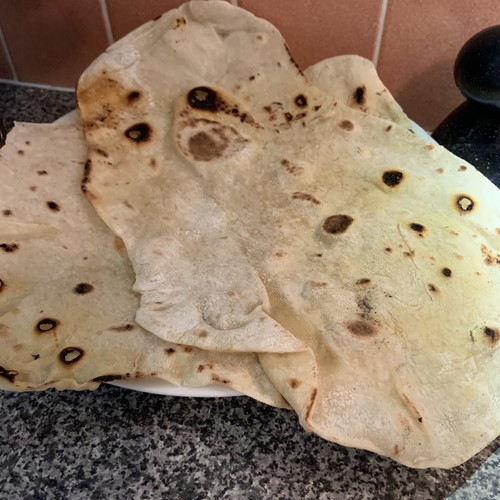 Monday
On Monday we cooked the first recipe from the other book that CookBookBake delivered to me last week - East. The veg box we had delivered last Thursday included kale. So that was a perfect opportunity to try the recipe for "Paneer, tomato and kale saag". We'd never cooked with paneer before either. So two 'something new's for the price of one. Bargain!
Tuesday
Tuesday would have been my Dad's birthday. I still try and celebrate my parents' birthdays despite them not being alive any longer. Earlier in the week, I was wondering what I could do to commemorate the day for Dad given the current situation. And then I thought of scones. He was partial to a scone - no cream though, he didn't like the stuff. I've had recent success with cheese scones, so I figured I'd give a fruit scone a try. One of the things I like about the cheese scone recipe is that it doesn't involve rolling out and using a cutter. Instead, it relies on shaping with my hands and then cutting the dough with a knife into quarters. As time was short - I made them in my lunch break - I decided to do the same with my fruit scones as well. A more rustic look! I had mine with strawberry jam and some fresh strawberries - a combination Dad would have enjoyed, and he'd have been happy with the rustic appearance. Happy birthday Dad!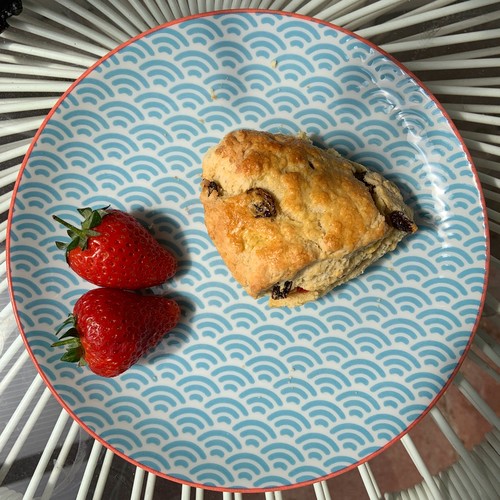 Thursday
Our dinner delivery option on Thursday was a new place for us - A Burgers. They specialise in vegetarian and vegan burgers and have some rather wonderful sweet potato fries.
Saturday
Thanks to an email from ArtFund I spent half an hour or so watching the films of an exhibition that I'd planned to visit - Cecil Beaton's Bright Young Things. I saw some Cecil Beaton works at the National Portrait Gallery, several years ago and I knew that this exhibition would be worth seeing. The films are great to watch, and I now understand more about the premise of the show.
Saturday also included another new batch of cookies. This time Mandelbrot, which the book describes as "biscotti's lesser-known cousin". I've never done any twice-baked cookies before, so that was quite interesting. It involved baking a couple of cookie logs, cutting the baked logs into slices and then baking those slices. The end result is pretty pleasing - they didn't rise as much as the picture in the book, but they are lovely and crisp and will be excellent for dunking. And this is one of the few recipes from the book that doesn't include the phrase "this dough benefits from resting in the fridge overnight."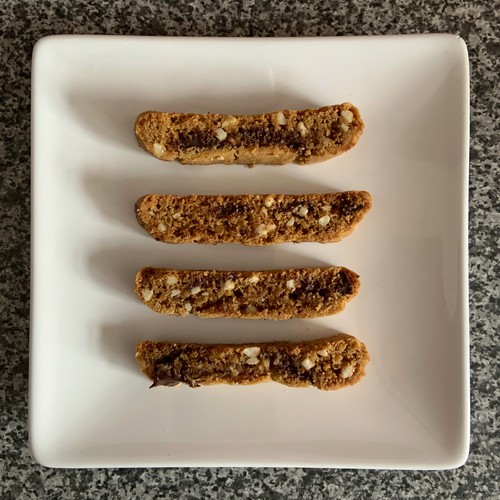 For more Try Something New posts, and the explanation of this project/intention, visit this page.
comments powered by

Disqus