Monday 4 July - "my first Speed Run"
I've started to follow an 8-week 5k improvement plan with Nike Run Club. Today was my first run. It was also my first speed run. It was 8 one-minute intervals at a "5k pace" with recovery time. I'm not sure what my 5k pace is really, or rather I'm not sure how to know if that's what I'm running at while I'm running. I walked for the recovery minutes, but in retrospect I think a slow jog would have been better. I have lots to learn.
Tuesday 5 July - GoodGym #5
A shorter run with GoodGym this week - just to Palmeira square to do some tidying up in the gardens. The exercise part was based on this video workout.
Thursday 7 July - "my next Speed Run"
This was another Nike Run Club run. And was with Coach Bennett - who I've grown to like. Today's intervals were a bit more fun. And I was given some direction - for the 5k pace the instruction was to run at an effort level of 7, for the mile run at 8 to 9, for 10k pace dial it back to a 6. That felt much easier to work with. Looking at the interval pace information they're still a bit all over the place, but I felt strong while running and that felt good. And I used my learning from Monday and slow jogged through the recovery periods. It was quite a fun run.
Saturday 9 July - Week 1's "Long Run"
A 1 mile run. It was a hot morning so though it was "only" a mile, it felt like hard work. I went to St Ann's Well Garden in seek of shade. Which I found. But I also found small hills as well. I did my usual 5 minute warm up walk. Then did a 5 minute warm up run. And then started my mile. I cooled down by walking home - my legs didn't have a cool down run in them today.
I signed up for a Strava trial on Monday and am trying to learn how that can help me to get fitter.
Monday 11 July - "on the move"
Goodness but it was a hot day. I did the Nike Run Club recommended run "on the move" which involved more intervals at mile pace, 5km pace and 10km pace. All of which felt different but looking at the numbers there's not a lot to choose between the mile and 5km pace times in how I ran them. It was tiring and I came home looking like a sweaty tomato. I tried a new stretching programme as recommended by Recover - an app I get access to because of my Strava trial. Somewhere along the lines I tweaked an adductor muscle - so I need to keep a careful eye on that.
Tuesday 12 July - GoodGym #6
We were back to the location of GoodGym #2. So back up that hill! This evening myself and one other lady set off ahead of the others as we both declared we were going to be slow today. We ran very companionably chatting as we ran and made it to the venue before the others showed up. Another good evening of gardening and giving the older people who live there some more outdoor space to make the most of. Bless them they'd written us a card and bought us some chocolates to say thank you 🥰 Tonight's fitness session was an upper body workout.
Thursday 14 July - Twelve minute run
Part of the Nike Run Club programme I'm following. It was a hot lunchtime run so a shorter run was totally appropriate. And I managed to actually run for 5 minutes longer than I needed to as I ran towards home so I was out in the midday heat for less time.
Saturday 16 July - My first ParkRun
GoodGym Brighton had decided to do a group run at Hove Prom Park Run. It's a flat run with good surfaces and so I thought it would be a good first park run for me. Our interim leader agreed and encouraged me to sign up. So I did. It was a hot morning, I was lathered in sunscreen, and had a little bottle of water with me. I told my GoodGym group that I was happy to trot along at my own slow pace, but Helena, our interim leader, said she'd run with me as she'd like me to meet my goal of running it all. So she did. And Michael, another run leader, ran with us as well. Really supportive of them both, and they let me finish ahead of them. Very thoughtful and caring people. It was a solid run for me. I'm happy with it, and to have done my first Park Run. Helena was talking me through some of the other Park Runs in the nearby area and giving me ones to aim for - Bevendean sounds tough - as I get fitter and stronger. A lovely supportive group of people 🥰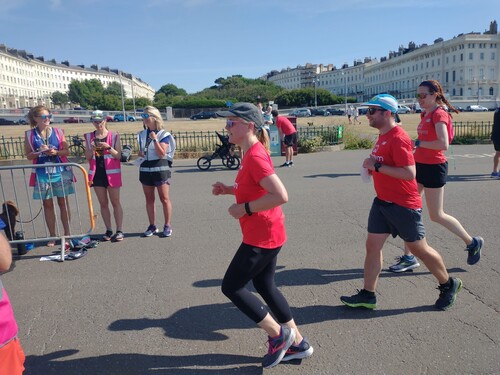 Thursday 21st - end of working week run
My first run of the week - Monday and Tuesday were too hot and GoodGym was cancelled. I was tired - last night I was at the England quarter final women's euro match and didn't get home till after midnight. And the working day was draining too! So I decided to do a 2 mile easy run. As it happened I kept going to 2.5 miles and it felt good.
Tuesday 26th - GoodGym #7
I've stopped the Nike Run Club training as I realised that speed wasn't my main aim. The sessions I'd done were fun and useful but my aim, at this time, is just to be able to run for longer. Longer in terms of time not necessarily distance. I'd rather do a 2 mile trail run (not that I've tried yet) than an 8k flat run.
So now my GoodGym runs count as a run. Which means I get to recover for longer between runs which I've read is important for new runners to prevent injury.
GoodGym was different in that it didn't involve gardening! This week's task was painting over graffiti in the Hanover ward. With a roller and magnolia paint. Quite fun and I didn't end up covered in paint. Unlike some of the others!
Thursday 28th - End of working week run
A run along the seafront doing faster intervals between lampposts. Quite a fun run. But I was also listening to the third part of the Nike run Club "Run with Lopez" and did have a few moments where tears appeared - such an amazing story. And a story that totally took my mind of running.
I'm doing a new virtual challenge - it follows the route of the Commonwealth games marathon in Birmingham. I've decided to run it. So I have a month to run a marathon. Today's run contributed 2.69 miles. A good start.
Saturday 30th - A 35 minute run
My longest (duration) run so far. I found one 35 minute run on the Nike Run Club so listened to "A Hot Run" as I ran. It was definitely warm but not really hot. Some useful tips. I combined St Ann's Well Gardens and Dyke Road Park again today which I do like as a route - although there seems to be a lot of hills to run up, and I don't seem to feel the benefit nof the downhills quite as much 🤔
comments powered by

Disqus