Braun PixelBank may not work with HD cards
It has been about 10 months since I bought and reviewed my Braun PixelBank and overall I still find it useful and handy.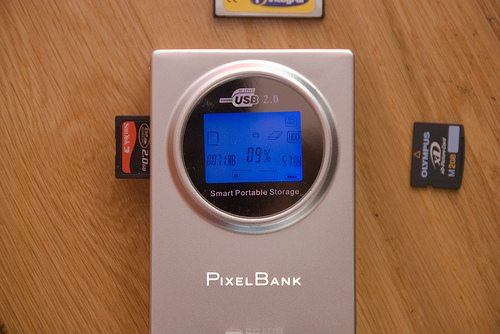 A couple of months ago I had quite a backlog of photos to clear, and as my habit is not to clear down a card until after I've processed and backed up the images I had run out of media. I decided to buy a nice, shiny new 4GB SD HD card and headed off on my holiday armed with that, some other cards and my Pixelmate. After taking a days worth of photos I turned it on, plugged in my card and pressed the play button... and nothing happened... usually it starts copying the files and I get to watch the percentage increase (slowly!). But this time it didn't recognise the card at all. I haven't really got a way of double checking that it is a HD problem rather than that specific card, but that is my assumption as all the other non SD cards work ok, and the HD card works fine in the camera.
comments powered by

Disqus