I visited a couple of gallery spaces this week. I didn't go on a grand Wednesday adventure this week, instead staying at home, doing a (long overdue) Brighton Bloggers update, a blog post and processing some more photographs from my holiday in Pembrokeshire, so instead I slotted a couple of visits into my lunch breaks.
On Thursday I headed over to the Bellis Gallery to see the Degeneration exhibition. The Bellis Gallery held the Human Endeavour exhibition during the last Brighton Photo Biennial and was one of the few places I managed to get to then. I really liked some of Alex Currie's photographs in this years exhibition which were taken during the demolition process of houses and flats and show an almost archaeological layering of the buildings. As with the Human Endeavour exhibition, this was something that made me stop and think for a while.
Yesterday, I spent a really enjoyable lunch hour taking in some more shows. First I dropped in to the a&e gallery to see the After exhibition by Portia Webb before moving on to spend the rest of my time browsing around the upstairs bit of the old Co-op building walking through a multitude of different exhibitions. The Co-op makes a great place to see art, it isn't pristine, it's cold, and smells damp, and there are buckets, containers and even a colour paddling pool around capturing the water that drips through the roof. But I love it. It feels real. It feels like the kind of gallery space where you don't have to know about art to appreciate it. It lowers the barrier to entry. Anyway.
I'm not going to list all the different exhibitions and artists, but I'll mention the ones who impressed me (which it turns out is quite a long list). As an aside, one of the habits I've got into whilst walking around the different exhibitions is taking photographs with my iPhone of the pictures on display, and the name signs associated with them so that I can later make sure that I identify the right photographer from the many contributing artists to some shows. I have included some of those photographs in this post, but it is worth noting that the light in the Old Co-op is not conducive to good and well-defined photographs taken with an iPhone. I hope that the artists don't object to their work being portrayed through such poor reproductions and I would recommend going and seeing them properly.
The first gallery space I walked through was the Uprooting the Gaze: Foreign places familiar patterns which had photographs from a couple of photographers which made me stop and stare. The first was François-Xavier Gbré (warning: the web site plays music) with a collection of images of decaying buildings. The (poorly lit) photograph below was my favourite of his series, showing a beautiful symmetry amongst decay.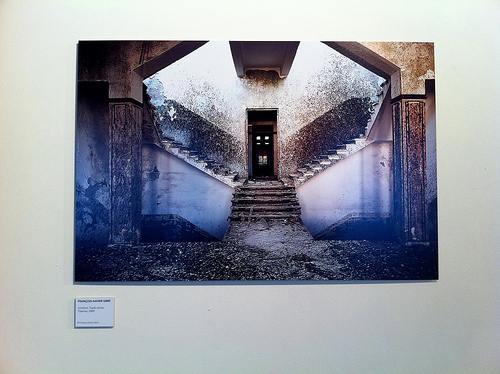 The second was Zanele Muholi whose photographs from her Being series, for me at least, exude a feeling of emotion and engagement both between the lovers in the photographs, and a respect from the photographer. Something that I didn't feel in the Queer Brighton exhibition which covered a similar topic, although, again for me, with a much shallower view.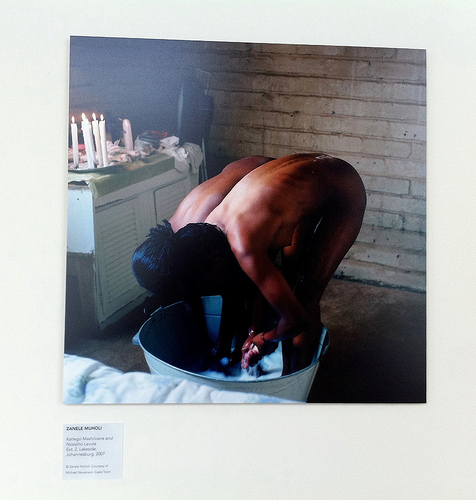 The next series which caught my eye was Jo Renshaw's Say Cheese. It wasn't because it was an amazing series of photographs, but it was the subject matter. The concept of capturing a photographer photographing somebody. Kind of like meta photography.
Whilst at the Degeneration exhibition at the Bellis Gallery on Thursday, I spotted that someone had adorned the cover of the Brighton Photo Fringe booklet by drawing a moustache on Maggie which amused me. So I took a look at the Maggie and The election project exhibition, and found a collection of even more adorned postcards of Maggie. The ones that fascinated me the most were the ones which transformed the hugely recognisable face (at least to people of my age and older) of our former Prime Minister into something quite different. Like these two: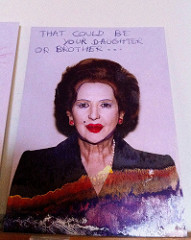 Simon Roberts's The Election Project series was very well put together, being a combination of submitted images from the people of Britain, along with his own set of observations made travelling the country during the campaigning and is well worth taking a look at.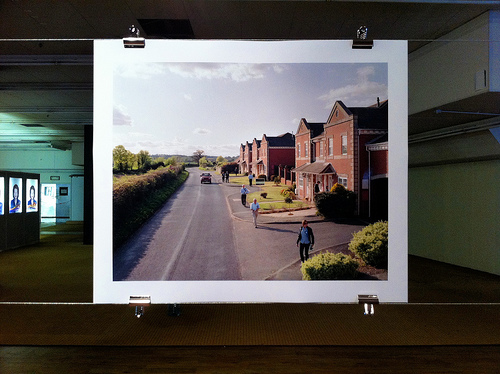 The next set of photographs that caught my eye were part of the In-Sight group, and in particular those by Sri Shan entitled "The More Men I Meet, The More I Love My Dog" which just appealed to the dog-owning and dog-photography side of me. Not to mention the dog in question seems to be a Jack Russell terrier with expressions I recognise from my own dog.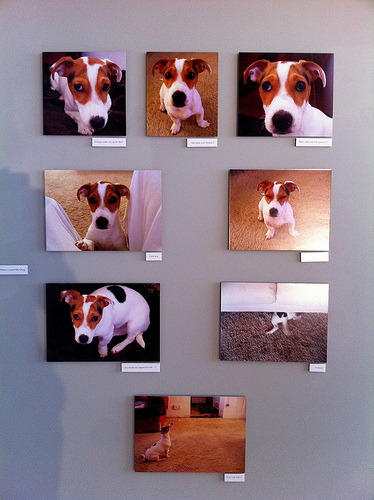 The penultimate display to grab my attention was Journey by Richard Foot. This depicts a collection of polaroid photos, displayed against a map, showing empty street and town scenes from across the UK. The simplicity of the display drew my attention and gave me ideas for how to display my photographic collection of Found items should I ever progress it that far.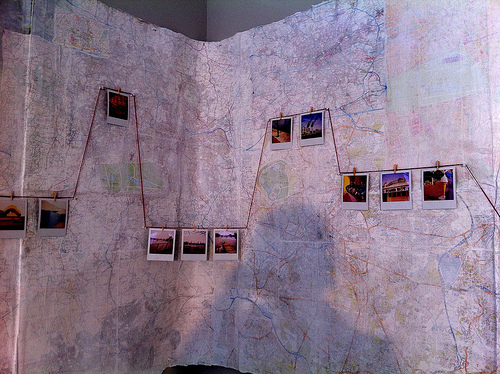 My final stop was Lewis's Fifth Floor: A Department Story by Stephen King. Another story of decay, featuring the out of use, formerly luxurious, Fifth Floor of the Lewis's Department Store in Liverpool. Part of what, at least for me, makes this series stand out is it being displayed in the mostly unused, decaying space of the old Co-op building on London Road. I'm not sure if I'd have engaged with it so much in a more traditional setting, which isn't to say that the photography isn't good, it is, it's just that the setting adds a lot to it for me.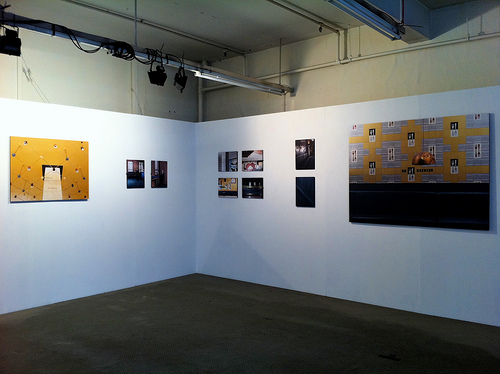 Some of the exhibits on display are changing on a week by week basis, so I'm hoping to spend next Friday lunchtime checking out the changed exhibits, and maybe revisiting some of these that have remained. If you only go to one venue during the time that is remaining for this years Brighton Photo Biennial, make it the former Co-op building. It contains both a curated exhibition as well as two floors worth of fringe exhibitions, and a short walk can take in the foyer of the post office too.
comments powered by

Disqus