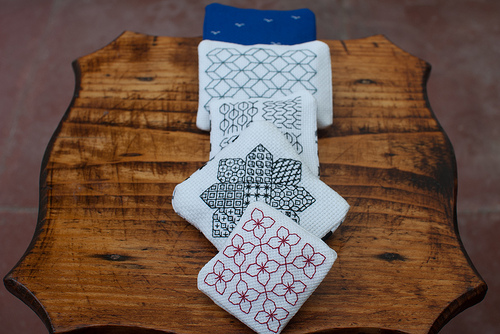 Since going to the Creative stitches and hobbycrafts show in April I have occasionally been stitching some small blackwork square(ish) designs. Partially because I liked how it looked at the show, but also because it seemed to be quite a simple and transportable craft. Much as I love weaving, a 24" loom is not easily transportable. Over the past few months I've built up a small collection of squares and wanted to find a use for them. Originally I was going to use one of them as the centrepiece of a drawstring bag (and I may still do so in the future - I still have a couple unused) but the patchwork drawstring bag I made did the job I had in mind and so it wouldn't have had a purpose. And I do like to make things with a purpose!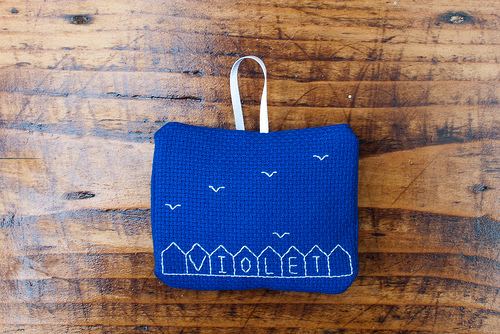 Amongst the squares was one I'd made specifically for my friend's little girl. And as it's that little girl's 1st birthday today the time had come to get on do something with them. After my relative success of making a patchwork pin cushion with an envelope back, I decided to make lavender bags with that style back. So, I got the 5 nominated squares — one blue, four white - and decided on backing fabric and sizes for them and made a start.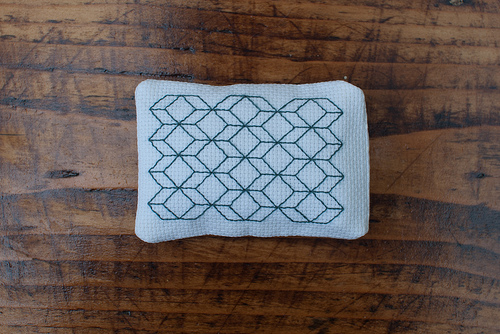 Both the blue beach huts and seagulls blackwork piece and the green geometric piece are designs made by me. The green geometric design is based on this poster that Present and Correct posted back in May.
For all of them I laid a layer of colour-matched, plain fabric against the back of the blackwork to give it a bit more stability. I wasn't sure how well the canvas would hold up on its own. This worked really well.
On Saturday evening I was still stitching in my garden at 9pm. The light had dropped and our outside light isn't that good. I was also tired and so I made a mistake with one of them and ended up with it stitched back to front. I unpicked and restitched incorrectly again. Note to self, when you start making silly mistakes, take a break! After a nights rest I unpicked and restitched once more and the result is much more pleasing.
Two of the bags are filled with lavender. The others are filled with a moth repellent dried herb/flower collection I picked up at a show. This smells pleasant with a slight undertone of mint. These bags have gone straight into use in my fabric stash box and a hamper that serves as a blanket box. Time will tell if they work to keep moths away.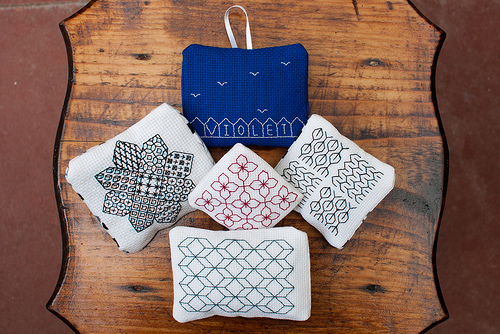 This seems to be quite a nice way of using blackwork. The two pieces I have left are both on a black canvas and so may be suitable for making into the centrepieces of drawstring bags. Seeing these as lavender bags has changed how I feel about the blackwork pieces as well. I like how the simple black on white ones looked when they're stitched together, although this may have something to do with the fact that I really like the fabric I've used for the back pieces!
comments powered by

Disqus