Yarn wreath for Mother's Day
Earlier on in the year, a friend suggested another use for my little flower loom flowers - make a yarn wreath. She sent me lots of suggestions on flickr to look at and of I went. This seemed like a reasonably simple project to do, so I decided to give it a go with the aim of creating something for Mum for Mother's Day.
Having had a quick wander around the likely looking shops in Brighton, I headed to the web and found a supplier of a wicker wreath, and ordered that. I'd originally toyed with the idea of using cardboard, but quite liked the idea of it being a bit more robust.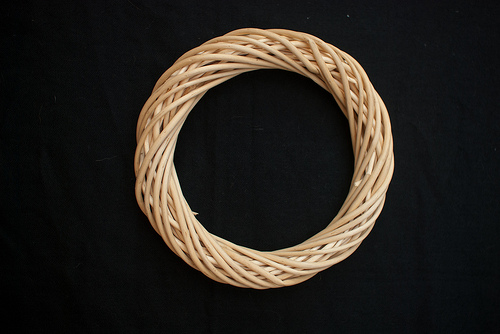 I bought some green and white Sirdar Snuggly Snowdrop chunky yarn to wrap the wreath with and this was my starting point. I'd planned out what I was going to do in my head, and started making flowers. Originally I'd selected a few colours that I was going to concentrate on, but in the event I liked the fluffiness of the Jarol supersoft DK white yarn with Sirdar Snuggly Baby Bamboo shiny yellow middles and so just ended up making far too many of them, mainly because they were so cute.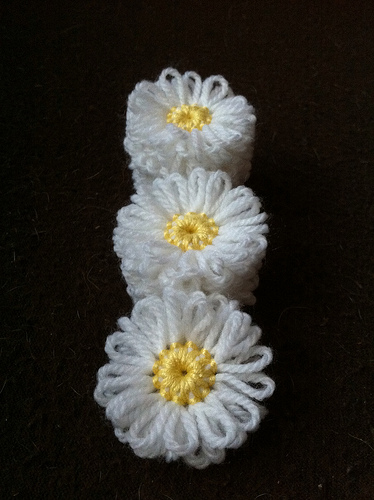 As I've said before, me and sewing aren't best friends, so I sat down with some trepidation armed with needle, cotton and a stack of fluffy flowers. As is often the case, it wasn't so bad, and I managed to get the first 3 flowers attached along the bottom in pretty much the right places. After a big sigh of relief, the other flowers attached nicely as well. Phew! All that was left now was to find some ribbon to sew on to the back at the top to hang the wreath from. I headed off looking for white ribbon and instead found some perfect little flower ribbon in almost exactly the right shades of white and yellow. So I bought that, and last night I could be seen battling to attach it in the right place, with the right number of flowers to make it hang nicely. And here it is, hanging up (temporarily) in my hallway so I could take photos of it.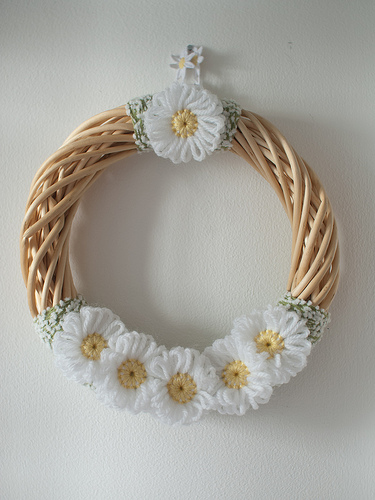 So the end result is quite simple (which I like). It's a nice spring time set of colours, I'm very pleased with the textures of it and think it'll look lovely in Mum's room. It also helps that it is a good size to transport up to Mum when I visit her next weekend. I'm actually a bit shocked that I managed to make something that looks so cute actually!
comments powered by

Disqus