Yarn wrapped headphones, the Creative Stitches and Hobbycrafts show and Crafted: Makers of the Exceptional 2013 show
My headphones are still very good, even after the 5 years I've had them, but were starting to look a bit scuffed around the edges. They are used the most on long journeys. Usually on planes or trains. Neither of these occasions are conducive to keeping them in the nice, hard case that they came in. And in fact, even at home, they hang around the support of my desk, as does the case. They rest on the case. They don't live in it, so they don't get a lot of protection.
For last Mothers Day I yarn wrapped a wreath for my Mum. I've also recently been on a drive to use up my stash of yarn. At the Wool House the other week there were some tweed covered headphones. So I figured I could combine all of these and smarten my headphones up.
So here they are. I'm not sure how resilient the yarn wrapping will prove to be, but it only took an hour or so, so I can always do it again if it doesn't last. They look much better than they did, and I used up the ends of some Sirdar Snuggly baby bamboo yarns wonderfully.
In other news, yesterday a friend and I had a day of craft related goodness in London. And the sun shone on us, which in itself felt wonderful. Firstly we headed off to the Creative Stitches & Hobbycrafts show at ExCel in Docklands. The highlights of this for me were the "Pieced Patterns" quilt display from The Quilters' Guild of the British Isles and the Royal School of Needlework's display of work. I was particularly taken with some of the samples of blackwork, and as with most things recently the work with repeats, especially slightly broken repeats, caught my eye the most.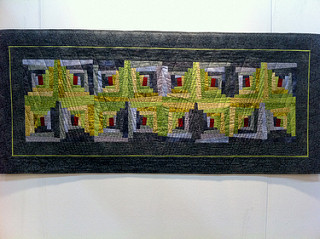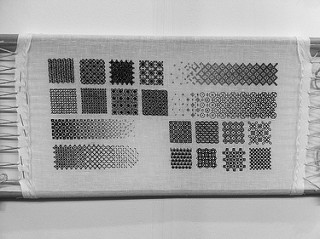 After a quick search of my calendar, this is the show that was in Brighton last May. It was the first show I'd ever been to, and I remember enjoying it. After having a wonderfully stimulating day at Ally Pally last October though, it seemed a bit small. And busy. Especially the Fabrics Galore stall which had some really lovely fabrics and a queue around the block.
Then, after a lunch break, we headed back to Somerset House, somewhere neither of had been for years until Wool House just a few weeks ago, for the Walpole Crafted: Makers of the Exceptional 2013 show. This was a small exhibition featuring some "of Britain's most talented craftmakers". The nice part about this was the chance to speak to some of the people behind the works. We had a lovely chat with a watchmaker and enamelist from Vacheron Constantin and with letterpress expert Kelvyn Laurence Smith, and overheard/hovered around a conversation with Mati Ventrillon, a Fair Isle knitting specialist.
The following photos were taken on an iPhone and so aren't the best quality, but hopefully give an indication of some of the work on display:
Graduated porcelains by Natasha Daintry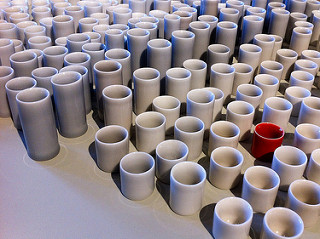 Letterpress repeats by Kelvyn Laurence Smith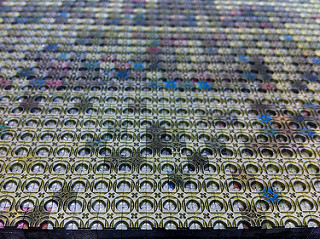 Fair Isle knitwear and notebook by Mati Ventillon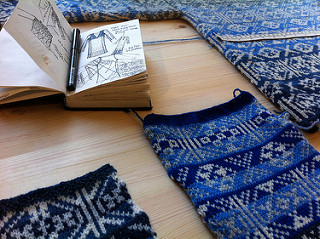 Neither of these things warranted a full day, but as a combination they worked well. Resulting in another lovely day which, again, ended with my head full of ideas. When will I find the time to act on them?
comments powered by

Disqus