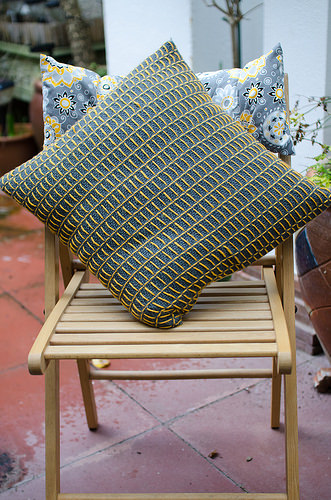 Having made my rothko inspired cushion I had one more cushion idea up my sleeve. This time I wanted one to use as the seat cushion for the seat I made the back cushion for. Having had a few stretching and sewing issues with the rothko version I decided to just make a front and use normal fabric for the reverse.
I had some yellow and grey yarn left from the fabric I made for the glasses case and decided to use that as it was a good colour match with the chair cushion back.
I wanted the finished item to be mostly grey with yellow highlights. And I wanted it to be similar size to this cushion. I decided to go for a Combined warp and weft floats pickup draft from The Weavers Idea book.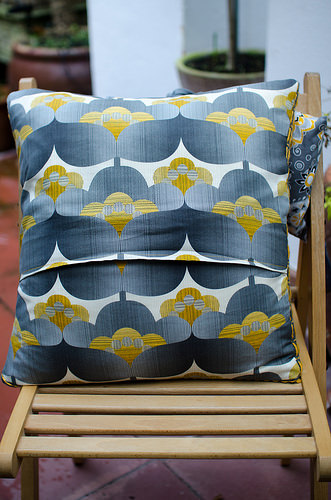 Once I'd finished weaving I went searching for suitable yellow and grey fabric and found some amazing stuff at my local sewing shop. Which became the back. So very 1970s. Amazing. I love it.
The assembly went pretty well. And I'm pleased with the end result. And I think it looks OK with the cushion back as well. Result! I've ran out of places that need cushions now. Or at least I thought I had until my niece and her husband came around and he decided that I could make them some. I'll find out how serious he is over Christmas.
comments powered by

Disqus