Weaving project 59: A rothko inspired cushion cover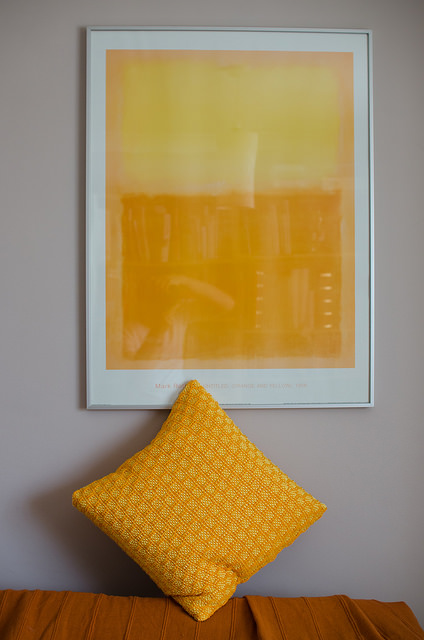 On the wall in our spare bedroom/my craft space is a Rothko print. I love the colours of it. I bought a long, thin cushion a few years ago that is similar in colour palette. And decided I wanted to weave another one.
Amongst my collection of Rico Creative Cotton's were some well matched yellows (light yellow and tangerine). So that was that part of the plan sorted out.
When I was doing my planning, I got my figures wrong in both dimensions. It ended up being thinner than it could have been. And I didn't allow enough for loom waste. Since changing my warping method, my loom waste allowance has increased. But hasn't stabilised yet. For the short term I need to over estimate to ensure that I don't end up with too short a warp. Lesson #1.
The pattern I chose was "Paired warp floats in alternating blocks" from the Weaver's Idea book. This used two pick up sticks alternating every other repeat. I didn't find having to put the second pick up stick back in too much of an annoyance. Which is good.
Having watched some more of my weaving video, I bought and used craft paper on this project to wind the warp. It is much stiffer and has worked to help even out the tension. A good change. And one I'll keep. Lesson #2.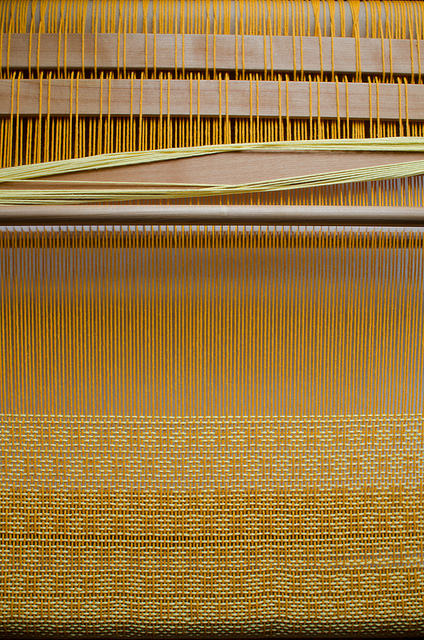 This was the second time that I've attempted to make the entire cushion cover in woven fabric. The previous attempt failed. This time didn't go quite as well as I'd hoped either. The fabric I produced wasn't quite as long as I'd wanted. It was 4 or so inches short which made it just about possible but tight. It also ended up being rather thick when all folded together. Too thick for my poor sewing machine. I broke one needle before deciding to hand sew the rest. Lesson #3.
Having sourced a cushion inner, the back gapes a bit. So I've used magnetic poppers to hold it in place. Not an ideal or elegant solution but it works. And no photographic evidence of that I'm afraid.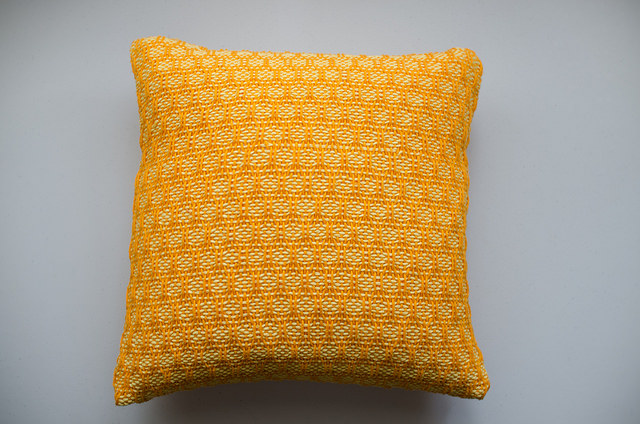 Despite the fact that it hasn't turned out quite as planned, I still like the finished object. The colour match has worked out well. The gold dominates despite only being the warp colour. And the pattern looks like it did in my mind before I started out. I've also got some learnings to take away with me and apply to the next projects.
I have another cushion planned for weaving project 61. This time with thinner yarns. And I'm only planning to weave the front panel and go back to having a thinner cotton back section. My sewing machine will be relieved.
comments powered by

Disqus