A "not quite as planned but pleasant anyway" woven cushion cover.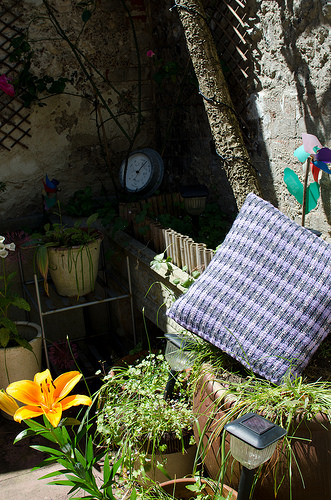 The original intention for this project was to use up a lot of yarns out of my stash and make a cushion cover that was all woven - front and back.
This was the first project where I used my new warping board. I watched the section on my Slots and Holes video and got to work. And struggled somewhat. But I have a clearer idea of what to do next time. New things are always hard to get your head around I guess.
I used a lilac acrylic yarn left over from this project. And some Garnstudio Drops Loves You IV in blue that I'd bought to crochet a cowl from but decided that the floaty bits were going to be way too itchy. I'd bought some Stylecraft Special DK in Wisteria as a filler because I wanted to try this yarn out. Then having done my maths and worked out that I didn't have enough yarn for the weft I went to my local yarn shop. And left with some Sirdar Snuggly DK in grey. And I loved how all of these colours worked together.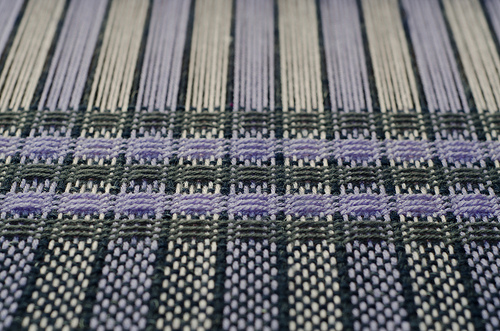 The weaving started well.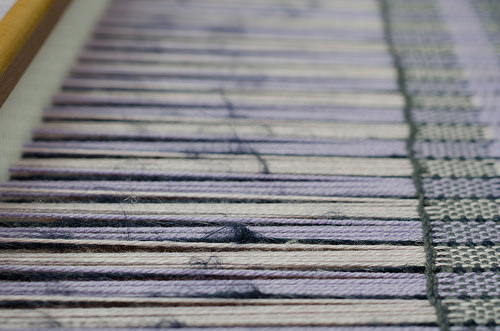 But the blue Drops yarn turned out to not be particularly well plied and so wasn't strong enough to be a warp thread. Or even a weft thread used for hemstitching. I learnt this whilst weaving. I implanted a repair on the first warp thread to break and continued to weave. When the second and third started to look rather thin I decided to give up. As a result the piece of fabric didn't end up being long enough to be both front and back. But it was big enough to make the front of a cushion cover. So it was a change of plan, rather than an abandonment.
I wet finished this by hand washing and then rinsing and spinning at a low speed in the washing machine. I didn't block it but just let it dry flat.
When it dried it was obvious that it was quite a soft fabric. And that the textured stripes had worked well. But that the acrylic yarns hadn't given as much as the more natural fibres did. So, not quite the expected pattern. But it was definitely worth making that cushion cover out of. So, I popped to my local fabric shop and bought some blue fabric for the back and got to work.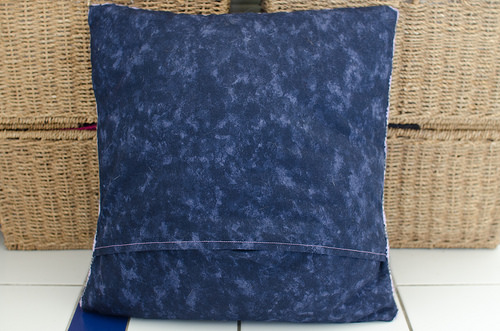 I used the same method as I have for all the other cushion covers. An envelope back. I used the weaving as the guide for the finished size. So there is a Wisteria stripe at the top and bottom. And a lilac stripe at the right and left. The envelope back has ended up being rather lower down that I'd planned . This was because I pinned it all together and then cut down to size rather than pinning, checking and finally cutting. A bit too impatient I'm afraid. But, the stitching in contrasting lavender ended up being pretty straight.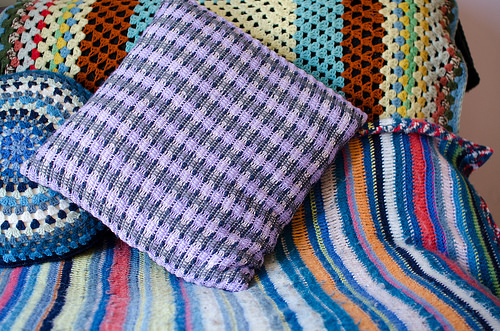 Despite that assembly mistake, and the larger warp thread problem, it has ended up being a soft and comfortable cushion cover. It looks like it'll fit right in to colourful "hand made stuff" corner. (The crocheted blanket at the back isn't my work - that was Mum's work)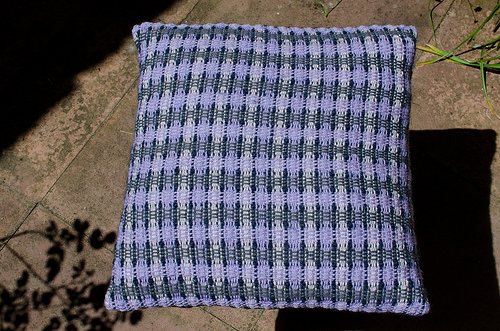 Overall, I'm really pleased. I still like the pick-up stick patterns and all of the potential they bring. And I love the colour play in this project. And most of all, this is the end of my weaving backlog. So I've cleared the decks and ordered the yarn for my next project. Yay!
comments powered by

Disqus