What is the collective noun for drawstring bags anyway?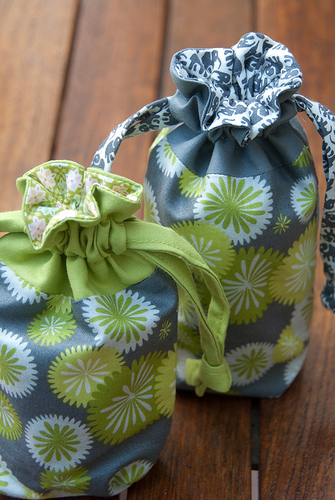 For my friend's birthday I wanted to make a drawstring bag. She made me one for Christmas, and it seemed only right that now I could, I repaid the favour. Amongst her other gifts I'd bought her a piece of vintage craft kit, and I decided that the bag should fit it. Having only made one lined drawstring bag at this point, I wasn't entirely sure how to get the dimensions right. So I figured I'd make a prototype first — for me :-)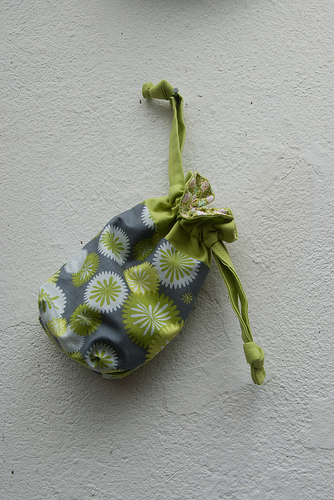 So, armed with some approximate dimensions, and some lovely lime green fabrics I set off on my creative journey. I followed the same instructions as last time. The gusset of this bag is almost right, much closer than the last attempt. Progress is definitely being made. Yay! It is, however, slightly too short for the item in mind, so a minor revisit of the dimensions was needed.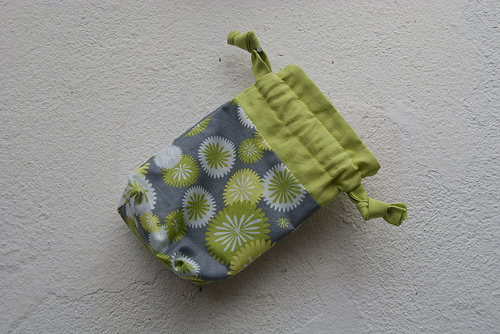 It took another month or so to get around to making the one for my friend. I'd had the fabric cut for ages, and sat down one day to get started and realised that I didn't have a suitable grey thread. How this could be the case still escapes me but there you go. It was 5.35pm on a Saturday afternoon and I ran down the street and into town, but none of the craft supply shops were still open.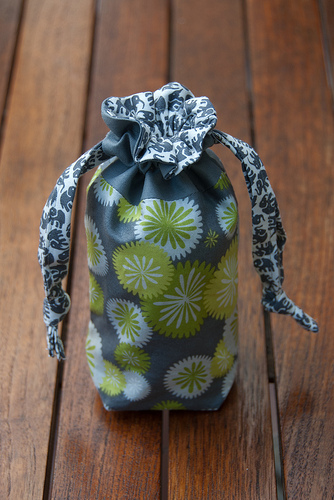 The sizing is absolutely perfect for what I wanted to put into it. The sewing is pretty good. The two bits that let it down are the gusset, again, one side is spot on, the other is still off by a bit, and the lower of the two stitched guides for the fabric handles. It is rather wonky. I do find sewing those a challenge, and the smaller the bag, the harder it seems to be as the wiggle room isn't great. Still, maybe she won't notice. Oh wait, she will now :-)
One thing that is worth noting here, making something for someone else, especially the person who taught you not to be afraid of a sewing machine in the first place, brings its own challenges. I really wanted this to be as good as I could make it, no corners cut (well except deliberately!). I think I can say that. Phew!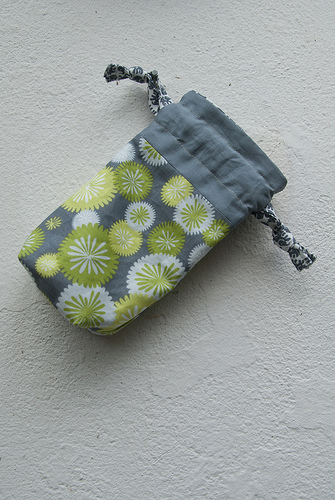 The fabric choices were very deliberately planned as well - I spotted the small elephant fabric months ago, and as she kindly, and totally unexpectedly, made me a crocheted elephant a couple of years ago, it seemed like the ideal fabric to use. Fortunately, it goes well with the gorgeous grey/green/white flower fabric that I'd also decided I wanted to use (and which, sadly, I couldn't buy more of when I went to the shop as they'd sold it all).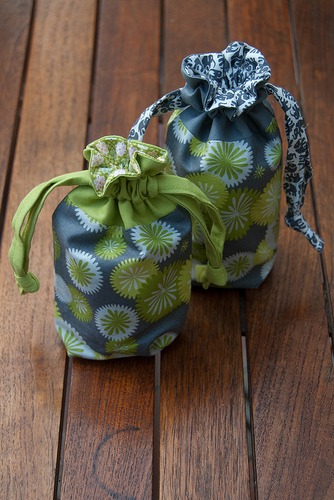 Sewing is still a challenge for me, but I am improving bit by bit. And that's all I can expect of myself.
comments powered by

Disqus