I haven't posted many weaving projects recently. It isn't because I haven't been weaving. It is partially because I have been working on a multi part project. And partially because I have a backlog of things that either aren't quite finished, or weren't exactly a success. Just so that I have a full list of them, and after all these are supposed to be my weaving notes, here goes with the ones that haven't thus far had a mention.
Weaving project 47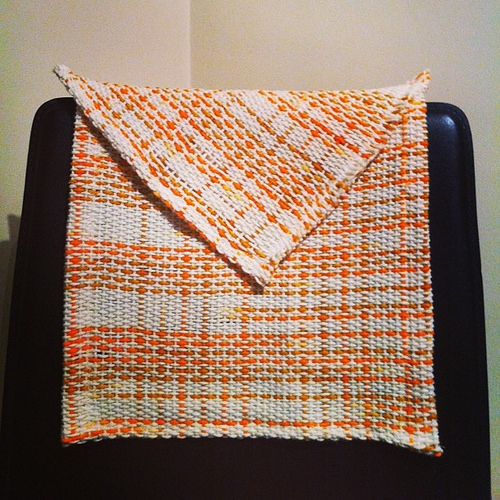 My first attempt at tea towels. Wasn't a success. Gauged the sett wrong, and had my first situation where things fell apart. Nice pattern though. I did the same pattern as for my cowl, but using the variegated yarn as the one in three yarn. This was with KnitPicks Dishie Yarn in Swan and Sunflower. I cut the most stable pieces out and managed to make a small tea towel, and a dishcloth. Both of which are in the kitchen. The fabric was quite tough, and so I broke my first sewing machine needle. The end results makes an absorbent cloth.
Weaving project 48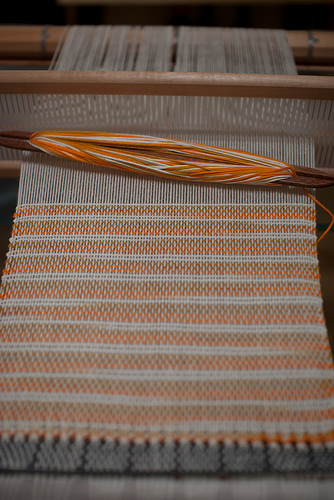 Back on the horse after weaving project 47! Beaten tighter than Weaving Project 47. And then finished with a hot (90 deg C) wash in the washing machine. Much more stable. This hasn't had a hem sewn yet but is large dishcloth size. Not 100% sure I know where this is at the moment but I'm sure I'll stumble across it one day. This KnitPicks yarn isn't too string-like to use, so I've ordered more (in Tugboat and Swan) to do a bath mat with during the summer.
Weaving project 49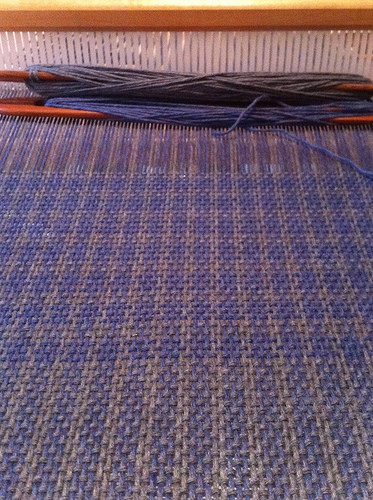 Using this cotton/acrylic mix yarn for a sample piece. The yarn was quite stiff and quite splitty. So won't be a repeated choice. I started off with the idea of making a bag out of it. But I didn't love the finished fabric, nor the pattern (which was a 2 grey/3 blue arrangement) so it may never see the light of day again. As with WP48, I'm not sure where this is right now.
Weaving project 50
Was the fabric for the second phone case. It got to share a blog post with the padded drawstring camera bag. Lucky Weaving Project 50!
Weaving project 51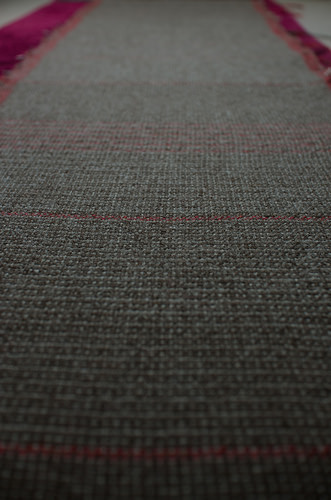 The first part of a three part project. These three parts will be sewn together into a blanket. All three are using the West Yorkshire Spinners Blue faced Leicester yarn sampled in Weaving Project 50. This part focusses on colour weave and used a section of the colour and weave sample project as an inspiration. It was set up with the warp following a light, dark, light dark repetition. The panel order was planned out, and each panel was divided with 2 picks of red.
It is currently pinned to a couple of towels on the floor of my spare room after having been wet finished yesterday.
Weaving project 52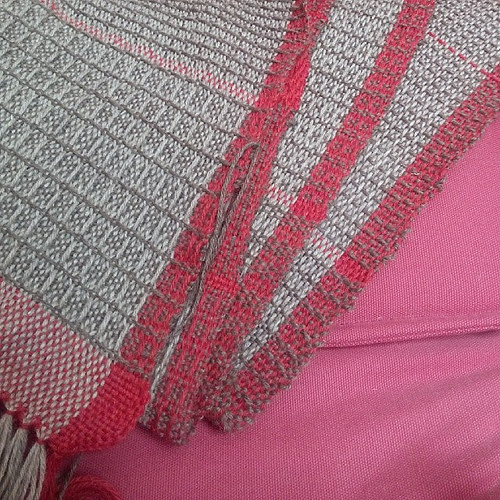 My first attempts with pick up sticks. And I love them. A bit of make it up as I went along but all based on instructions in The Weavers Idea book. It had an all pale warp and a mostly dark weft. Most panels were a 1 up 1 down pick up stick arrangement, though the last two were 1 up 2 down.
Weaving project 53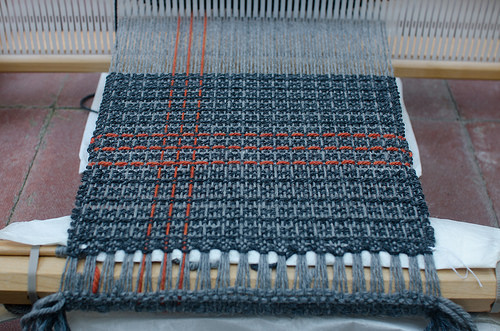 On the loom at the moment. It is a scarf. Or rather it will be a scarf. Inspired by the panels in Weaving Project 52 and the decision that if I wanted to make a scarf, I should get on with it before it is summer. It is using Drops Nepal in dark grey, medium grey and orange. Thus far it is coming along well and is enjoyable - I wove about 40" in 3 hours this morning.
comments powered by

Disqus