Weaving project 26: Inspired by Finland
This was started between the Christmas and New Year period and is a deviation from my more usual forms of weaving. It is influenced entirely by the few days I spent in northern Finland during early December.
On the wall in the hotel in which we stayed were woven pieces like this: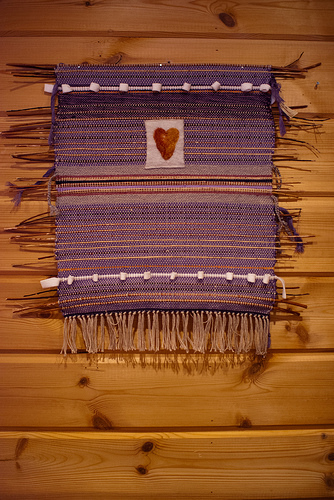 and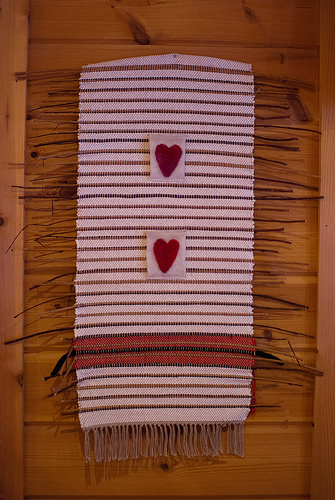 One of the trips we did was to a former reindeer farm and the lady who showed us around was a wonderful weaver, making pieces representative of her landscape - like this (excuse quality of photo but it was dark):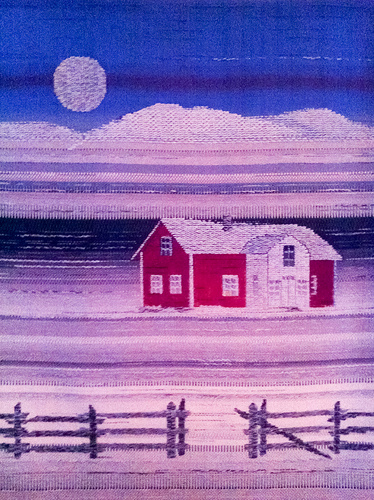 As a consequence I thought I'd try something marrying the two together and do something landscape inspired making use of mixed threads, and twigs. When I talked this through with Richard he wasn't so keen on the twig thing, being concerned about beasties, so I bought some florist supplied wooden decorative things instead.
At the time we were there there was about an hour of daylight per day, so light levels went from dark, to the blue of twilight, to almost daylight and back through twilight to dark again. So, the colour scheme needed to be muted and/or dark.
For materials, I used the silver como silk as a warp, as I wanted to get a bit of shine out of it to represent the snow falling around us (which was beautiful, if a bit frustrating as we were really there to try and see the Northern Lights, which we didn't get to do). I used two different whites (both in the box of mixed materials I got from texere over a year ago) to represent ice and fluffy snow. I used a dark green yarn (previously used in weaving project 7), interspersed with the wood and some of the white, for the trees. And I bought a blue/grey colour for the sky (Debbie Bliss Leicester Aran in duck egg blue). I used makeshift heddles and a shed stick for the first time on this project, and they made a lot of difference to the speed I could weave at. I will experiment more with this.
All of these threads were different thicknesses, and different materials - from silk to wool to cotton. The warps weren't as evenly distributed as I thought they were, so there are humps and lumps that I've tried to even out using more of a tapestry approach - most visible in the white area.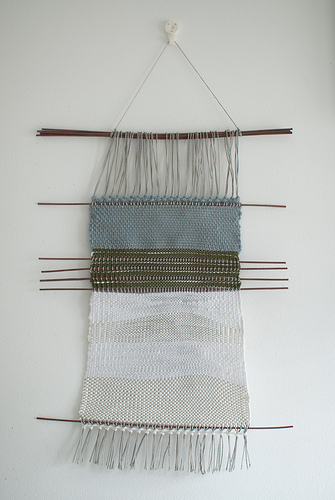 I finished the weaving aspect of it last weekend but today was the first opportunity I have had to take it off the loom and determine how and where to hang it. Having consulted with Richard, he suggested I put it by the front door (he obviously likes it!), and he seemed to suggest that I could one day make another one for the other side of the tidal clock.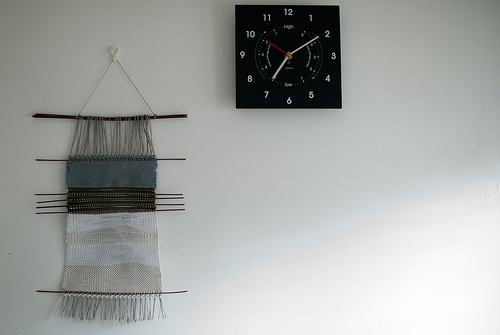 Overall, an interesting experiment into a different kind of weaving, a more decorative rather than fabric kind. I think I prefer the making fabric aspect of weaving, but I'm glad to have tried something different.
comments powered by

Disqus