Well, what a surprise! It's a bookmark using brooks bouquet and a thin thread. This time it uses some etsy-purchased threads from therainbowgirl.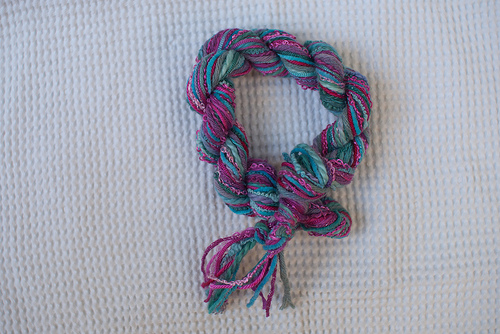 The threads arrived during the week, and so I decided that I'd experiment with one of the threads over the weekend. That dictated that I used the black crochet cotton as a warp again as it seemed to offer the best option out of the threads I already own. And at this point, I don't need any more threads. Notice the use of the word need.
After unravelling the beautiful presented threads and laying them all out on the table, I decided that I'd choose a thread which is variegated between pink and turquoise and which has a little bit of glitter on it which makes it shimmer really nicely. I had a friend in mind for this bookmark and I thought this colour choice would delight her. Actually, this particularly friend doesn't know I can weave at all so she's in for a bit of a surprise when this arrives at her house in time for Christmas.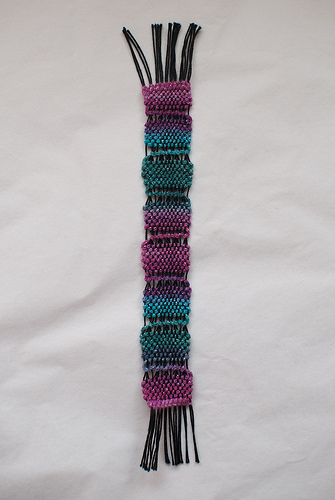 So, the same pattern as the rest of this series. The texture of this one was it much rougher than the others. I think that is as a result of the glitter. It's also a bit thicker. So whilst it looks impressive, it doesn't feel as nice as some of the others. The variegation has worked out really nicely for this pattern. Again, interesting to see (and feel) how the different thread choices impact the results.
Disclaimer: post written in early December and held back until after Christmas. If the tenses don't make sense, assume this is the reason :-)
comments powered by

Disqus