This is the first project that I've undone to such a serious degree. It's another experiment in textures, still following the same pattern as 18, 19, 20 and 21. This time using a silver-grey coloured como silk weft, and a black crochet cotton warp. The silk is beautiful (and another purchase from The Handweavers studio) but I couldn't get on with it as a weft thread at all. It was really difficult to keep smooth, to keep the kinks out (think telephone cables) and it made me grumpy. Weaving, for me, is supposed to be about fun and niceness so I decided not to fight it and abandoned it. I managed to get all of the silk off without damaging the warp so looked for a thread that would work against the black. I opened my box of threads for weaving with and came across the white fluffy thread that I used a year or so ago for weaving project 2.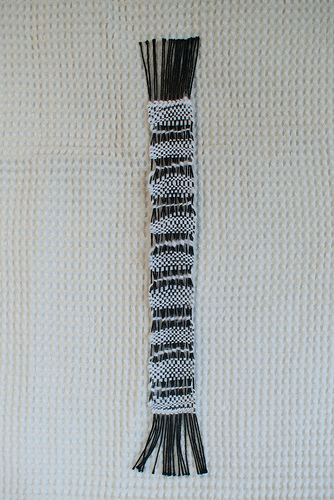 My replacement weft thread is of varied thickness - it is 2 loosely plied threads - ranging from 2 thin strands of cotton to 2 strands of fluff. As such, some portions are more even than others. I've tried not to fight this and tried not to squash the lovely fluffy bits so that it remains straight. This has been a challenge. And I've learnt, again, that I value even-ness in my work. That said, I do love the variety in some of the panels - some have naturally come out much more even than others.
The warp thread is a size 10 crochet cotton in black. This, again, was an experiment as I wanted to try something other than embroidery threads on these smaller scaled projects. It was easy to work with, and I had no problem with splitting. As I have a ball of it I expect it to appear in other projects for a while.
It's not what I'd intended or hoped for when I set out, and I'd been so looking forward to trying the como silk out that I can't help but be a little disappointed that I couldn't get it to work this time. But I quite like the finished item, and I think it's going to be a great Christmas present for a friend who will appreciate the variety in it and will be amused by my internal battle to resist making it even.
Disclaimer: post written in late November and held back until after Christmas. If the tenses don't make sense, assume this is the reason :-)
comments powered by

Disqus