also known as speedy Sunday morning bookmark.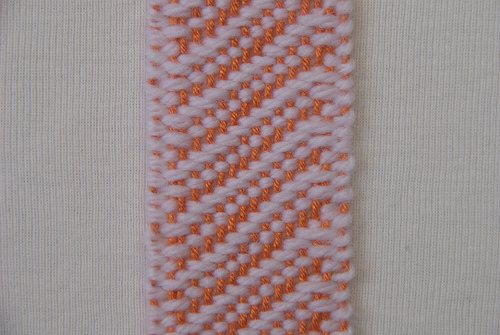 I have a friend with a birthday coming up at the end of the month, and I've been planning to weave her a bookmark for many months. Weaving project #16 only came off the loom last week, and is currently being blocked and awaiting me to be brave enough to sew it. Unlike crocheting, I can't currently cope with having two weaving projects on the go at once. I'm, probably, away for the next 2 weekends, so that basically meant it needed to be done this weekend or it became a Christmas present instead.
As I was awake stupidly early for a Sunday, I decided I'd get up and get going. I'd chosen the draft earlier in the week, and had warped the small, picture-frame, loom ready (with the last bits of the Sirdar Snuggly in Tigger which had been used for the granny rectangular blanket). I'd also chosen the weft (the remainder of my Wendy Mode DK in Whisper White that had also been used for that blanket) so all I needed to do was spend a few happy hours with some yarn and the pattern.
The last bookmark I'd made was back in April, so I was a bit concerned how I'd get on. Since then I'd bought some more tapestry needles from The Handweavers Studio and Gallery and so used one of those. The one I used was just a bit wider than the finished bookmark which made the weaving really nice and straightforward. 35p or so well spent. I've been working on project #16, which is in 2 large (for me) parts since the end of April, so my hope was that it would be delightful to work on something smaller and have a finished article within a day rather than 4 months. It was. I flew through it and enjoyed being able to do the full end-to-end process in hours.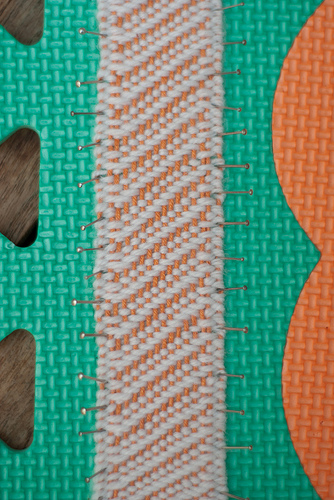 It is a 6 x warp and 6 x weft repeating pattern, and is quite simple to follow as the stitches just move across with each layer of weft. My recent lack of draft selection practice means that the finished bookmark is a bit busier than I'd envisaged, but it still just about works. I'd managed to keep my selvedges reasonably straight, but I figured a quick bit of steam blocking (having learned how to do it for the Lucky dip odds and ends blue-themed striped blanket blanket I made a few months ago) would finish it off reasonably well (it seems a bit straighter in real life than the photo below makes it look).
As I was working it, I also started to wonder how a silvery-grey weft would work or a 2 colour weft, with the single stitch lines picked out in one colour, and the double lines and edges picked out in another. Something to try one day maybe.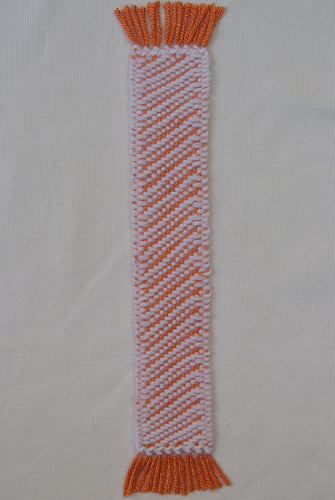 So, still a lot to learn, and a lot more practice to be had. It was a really good feeling to be able to turn something around reasonably quickly after having felt a bit stuck on project #16 for so many months. Next time I do something big, I'll allow myself to have a foray into something smaller when I'm about half-way through I think as having something to show for my time is really, rather a good feeling.
Now to find a book to go along with the bookmark. I'm half tempted to choose a book with a cover to match the bookmark but I'm not sure that's quite the way I should do it :-)
comments powered by

Disqus