Another bookmark - another gift for a friend. This time following draft #28337 over at handweaving.net. There were two good reasons for doing a bookmark as project #15. First up, I wanted something as a leaving present for a book-loving friend of mine as she leaves Madgex (a week before I go). And secondly, I wanted to do something that wasn't too ambitious whilst trying out the loom that my friend's Mum gave me.
The new loom has a label on the back which proclaims it as a Dutch plank loom. From the limited references I can find on the internet, like this example, the Dutch plank loom seems to be designed to be a tapestry loom and to work with fairly chunky yarns.
Determined to make it work for me, I had a couple of attempts warping it, before working out that if I just wound around every nail twice and then used the technique I've been using since weaving project #2 of using a separate thread and chain stitching the warp threads to get them to be more consistently spaced then it should just work. And it did. Phew!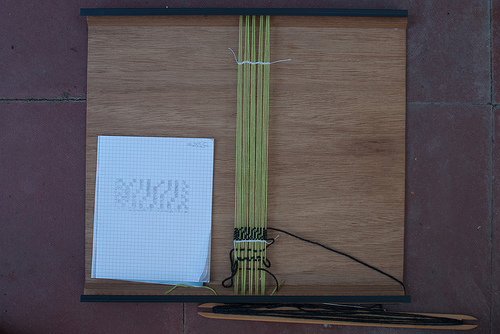 The pattern was, in keeping with some of the other recent ones, quite complicated and needed concentration, but I'm very pleased with the end result. The colour of the warp is a vibrant and shiny (more Sirdar Snuggly Baby Bamboo DK) lime although the photos make it look a little bit more yellowy. The weft is a charcoal coloured Wendy Mode. This combination of yarns is becoming quite a favourite.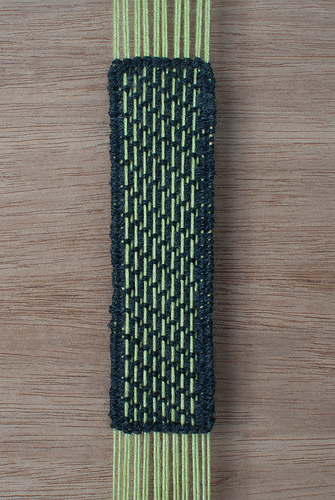 As I write, the Dutch Plank loom is all warped up for my biggest project to date, with 92 warp threads (previous maximum was 33 for weaving project #6) so I've chosen something relatively simple, but that I hope will be effective. I started weaving it last night, and then spent some time unweaving it as I thought I'd made a mistake, only to realise that it was right after all. Oh well, onwards and upwards...
comments powered by

Disqus