After the relative success of weaving project #11, #13 is also a lavender bag. This time as a gift for my Mother-In-Law for Mother's day.
I knew I wanted to do something with different coloured warp threads to add variety, and so this limited the options for my drafts as I wanted something where the colour change became part of the design, rather than distracted from it. I choose draft 28369 from handweaving.net which is an 8 x 8 repeater, and set up the loom to have the pattern repeated 3 times across it.
As is becoming a normal part of my process, I started off by transcribing the pattern into my squared exercise book so that I could have it by my side as I started to weaving and then warped the loom ready with lovely, shiny, Sidar Snuggly Baby Bamboo DK in Paintbox Pink and Sail Boat blue.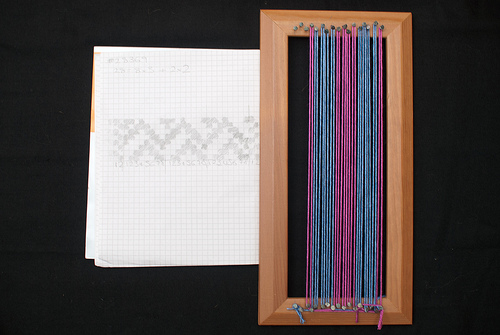 I decided to use a white weft and so ol' faithful Jarol Supersoft DK came out again.
This draft took quite a lot of concentration, as there isn't a real regular pattern to it, unlike the last one which kind of flowed rather nicely. But like the last draft I chose, this has a 3D feeling to it, and I'm definitely beginning to be able to spot the ones which will do this.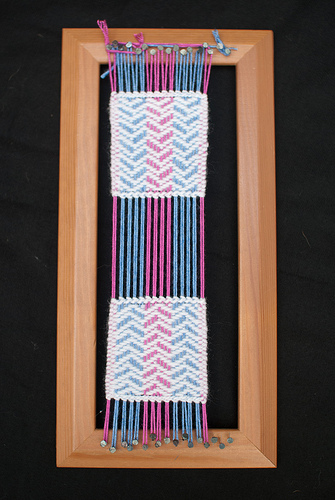 As with last time I made both panels on the loom at the same time, and the finished dimensions are 6.5cm x 6.5cm for the main panel. It took 3 - 4 hours to weave, and then a further hour or so to deloom, trim the edges, and sew it together. It is now sitting downstairs in a plastic bag waiting to be wrapped and delivered. (Note: this blog post is written on the 7th March but held from publishing until Mothers Day just in case my Mother-In-Law should stumble across it - unlikely but...)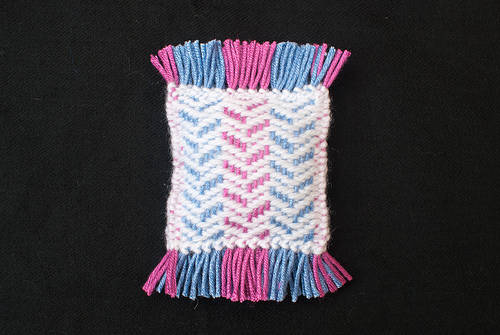 I'm really rather delighted with how it has turned out, and like it even more than the last one. I also love the dual colours for this pattern, so there will probably be more of this to come, and am delighted that the white weft has muted the vibrancy of the shiny warp threads in a really pleasing way. I'm still a bit amazed that something like this can be created from some yarn, an old picture frame and a handful of nails actually.
On to project #14 which is going to be another bookmark, designed with a specific book in mind for it to be used with...
comments powered by

Disqus