In a change from making bookmarks, weaving project #11 is a lavender bag. I was gifted a box of dried lavender a few weeks ago after a creative and imaginative friend of mine suggested the idea of making a woven lavender bag and not content with supplying the idea, she also supplied the lavender.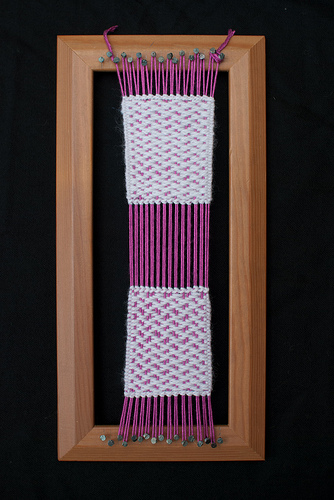 I decided to use draft #11158, again sourced from handweaving.net, which originates from an Old German Pattern Book, It is a 6 x 6 repeater, and I set the loom up to carry 4 repetitions across the fabric. I managed to do both sides of the bag on the loom at once, although my consistency across both panels wasn't great - the first side, the side not shown in the photographs, is tighter and has 11 repetitions of the weft, whilst the second side, my favourite, has 9. The dimensions are 7cm x 6cm with 2 cm long fringes.
The yarns used are Sidar Snuggly Baby Bamboo DK for warp, and again Jarol Supersoft DK for the weft after my original choice, a different colour of the Sidar Snuggly Baby Bamboo, was declared a failure and I needed to improvise. After removing the panels from the loom, I sewed them together with a bit of trepidation (sewing isn't a favourite passtime) and left an inch or so gap to stuff lavender in. I managed this without tipping it all over the floor which I claim as a success. The sewing was ok, and I didn't destroy the project at the final stage which was a bit of a concern.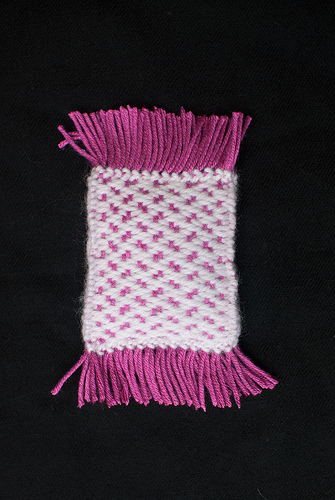 The finished article feels and smells lovely. The weaving pattern has a good bit of depth and actually felt three dimensional even before I stuffed it with lavender. I see more lavender bags in my future.
Draft 11158 is going to be the first draft that I repeat - I have the loom all set up and ready for weaving project #12, another bookmark, but this time for me.
comments powered by

Disqus