Weaver to Weaver: my first package arrives
On Christmas Eve, I came home from work after a somewhat more hassled day than I had expected, to find an envelope from Janet (no website to link to, it's on her 'todo' list for Winter but this is her artist page on the Potomac Fiber Art's Guild) waiting for me. Janet is one of the Weaver to Weaver ladies. I ripped the envelope open and then stopped and assessed my mental state. I was frazzled and buzzing. The combination of a somewhat high stress day at work, with the fact that we had a 90 mile drive ahead of us, and that it was Christmas Eve made me not in the right frame of mind to really appreciate this. So I popped it on to the mantelpiece, next to the Foldable Me, and left it there until the quiet time between Christmas and New Year. This morning, whilst there was some daylight to take some photographs of the contents, I opened it.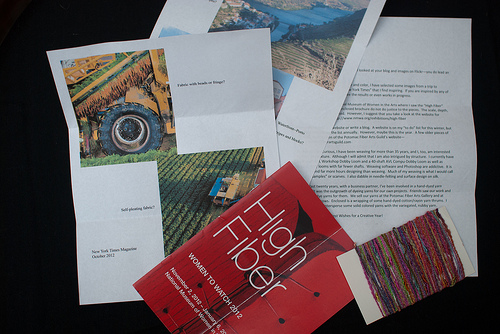 In the package I found a lovely letter, two pages of annotated photographs showing inspiration images, the brochure of a recent exhibition she'd been to and some samples of the hand dyed threads she makes.
It is really fascinating looking at the inspirational images as she has annotated them with how she envisages them being transformed into fabric. In the pack I sent, I included some images from my Finnish trip that I found inspiring for the same reasons. It's really lovely, and a total privilege, to be given an insight into how other people think and what their inspirations are.
Reading through the brochure is interesting, it says
Until the Renaissance, the word "art" (in a number of Western languages) signified nearly all objects made by hand, including textiles. After Renaissance thinkers determined that high art encompassed only painting, sculpture, or architecture grounded in philosophy, fiber-based objects were reclassified as handi-crafts - often pleasing to the eye but lacking intellectual content.
which I didn't know. It sounds like it featured some amazing works. I've never been to Washington (nor do I currently have plans to visit), and had never heard to the National Museum of Women in the Arts but if I ever do find myself in the area, I think I'll pop in as it sounds like an interesting space.
The threads (hand-dyed cotton/rayon yarn) are a wonderful array of colours from natural rusty browns through to super vibrant pinks and greens. And there is a great interplay between the matt and shiny properties of the two plied threads which, at least under the electric light that I'm currently sitting beneath, makes them shine and shimmer. I'm not sure how long they are, as I haven't taken them off the card, so at least for the moment, they are going to be classed as inspiration rather than as something I feel I should use. That may change if I come across something that I think a thread would fit into perfectly.
A lovely package of things, informative, inspirational and strokeable. Perfect. I'm glad I waited to open it until I had the right frame of mind to appreciate it.
comments powered by

Disqus