Unfit for human consumption...
...but suitable for a dog.
In April I started work on what I called my "Lucky dip odds and ends blue-themed striped blanket". The idea was that it would use up some of my stash of yarns that I gained whilst working out what did/didn't work for weaving or crocheting. As I seemed to have a lot of blue yarns in my stash, I decided that I'd do every other row as a double-crotched blue yarn, with alternate rows of single or triple in a non-blue yarn. I put all of the single-coloured yarns into my crocheted crochet bag and pulled out a random ball every time. The only time a ball got put back in was if it wasn't either blue or non-blue at the appropriate time.
I had originally planned for this to be an adult sized blanket but a combination of almost running out of blue yarn, or at least different blue yarns, and having got a bit fed up of doing row after row and fighting to keep the edges straight and stitch count consistent, I decided to call it a day and target it at my dog instead.
I decided to buy some new yarn as a border. I'd originally thought about getting a variegated yarn to use that was multiple colours of blue, but when I went to my local yarn store, I spotted this Robin Paintbox Patriot and decided that as the blanket has been created through the Jubilee period, and the start of Euro 2012, it was appropriate and tied the timing of the blanket creation in nicely to events going on in the wider world.
One month in it looked like this: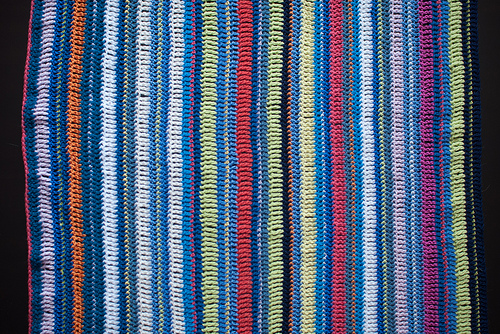 This morning I finished the final round of the border (6 rows of single crochet in the patriot yarn) and decided that it needed some blocking to try and straighten it out a bit. I had thought that acrylic couldn't be blocked, but a quick google corrected me and I followed these instructions and blocked it on my newly acquired blocking boards (ok, I admit, they're a child's foam play mat) using a steam iron.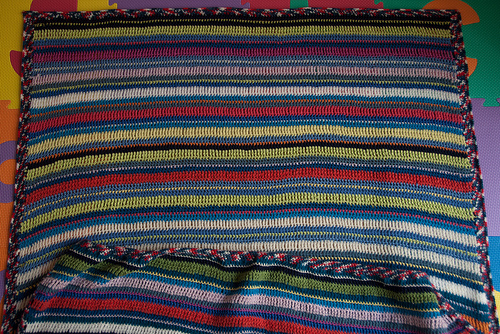 And here is the finished article, the blocking has definitely helped the edges straighten out and I've gone from being a bit meh about it, to actually being quite pleased with it. Amazing how much difference blocking can make.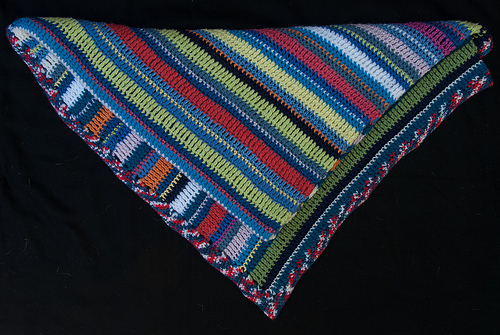 And here's an indication of stash reduction. It started off looking like this in April - note the amount of blue yarns...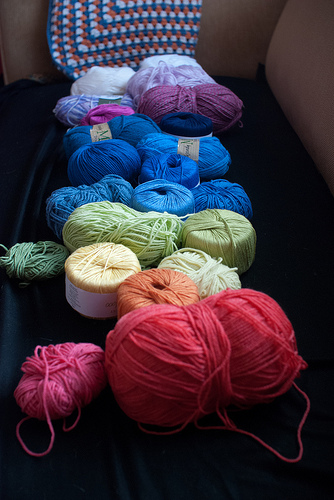 and it now looks like this - much reduced - especially the blues.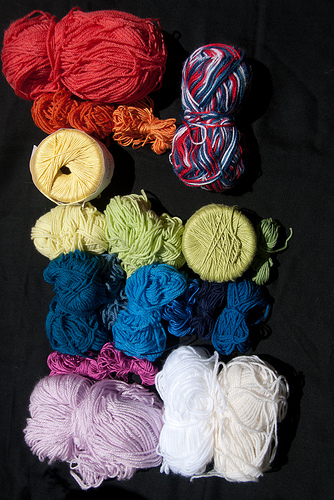 The dog has already been trying it out for size as I've been working on it, and she seems perfectly happy with it. In an evening she likes to sit on the sofa, and seems to enjoy being under a blanket - she nudges us until a blanket arrives and then snuggles under it - so I'm hoping she'll make good use of it.
It has been a good project as I've learnt quite a bit whilst doing it. I've battled to get the same number of stitches in each row when swapping from single to double to triple and this remained a challenge. I've reminded myself that not all yarns are made equal, and that some acryclics are just unpleasant to work with (the Foxy red and the Robin paintbox patriot both hurt my fingers which isn't fun). I've experimented with steam blocking for acrylics, and discovered that it works a treat and has made a huge difference.
It's not perfect by a long shot, but it has turned out much better than I thought it would midway through and the blocking has helped a lot.
comments powered by

Disqus