Two country crocheted scarf
(It was started in Munich, Germany and completed in Brighton, UK)
I've been working on a blanket for Mum for either her birthday or Christmas (depending on when it get's finished - current status above) which uses woven stitch. This stitch is wonderful. It looks lovely. And it's perfect for doing whilst watching the tv or something as needs little concentration. It also works up to be quite dense (which will be perfect for Mum).
I went to Munich a few weeks ago. We had rented an apartment, and were meeting some friends there which I knew meant there would be lazy mornings and equally lazy evenings in the apartment chatting and catching up on news. So, an easy crochet project would be perfect to occupy my hands whilst chatting and a scarf using woven stitch would be just the ticket. I bought some Wendy Norse Chunky yarn in Elk from C&H Fabrics and headed off with a 6mm crochet hook.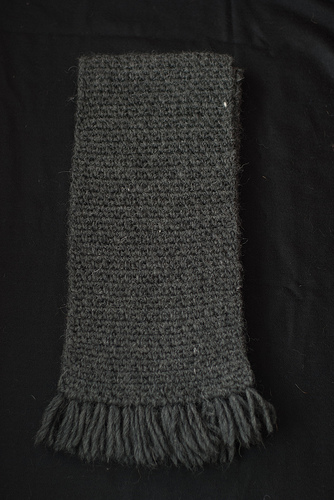 As expected once started it worked up quickly and well. It did take a few attempts to get started though whilst I tried to work out the dimensions I wanted (31 stitches across, 4 balls deep), and the Wendy Norse Chunky doesn't unravel well - as it's a slightly hairy yarn the fibres tend to stick together a bit. So, Wendy Norse Chunky - great if you're going forward, painful if you need to reverse. So get it right first time and it's all good.
To finish it I put a trim on it, using the gaps that are left within the woven stitch structure. I tried a few different lengths before settling on a short trim.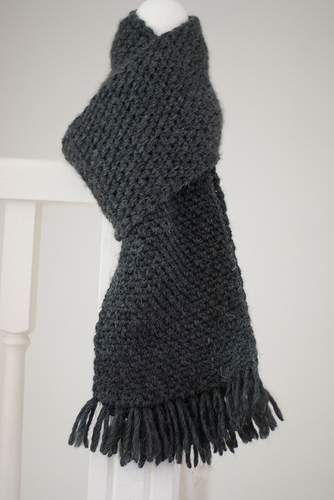 It was simple to make, is lovely, thick and warm, and is in danger of being "borrowed" by Richard unless I make him his own (which I'm taking as a great compliment).
comments powered by

Disqus