Turner Contemporary Gallery, Margate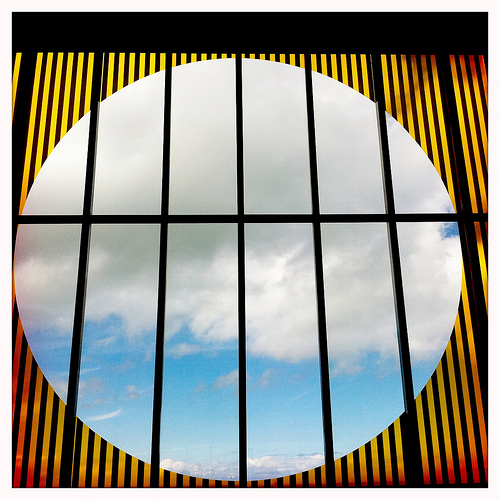 On Saturday, whilst visiting Richard's family in Margate, we decided to pay a visit to the recently opened Turner Contemporary gallery. Having watched it evolve over the past few years, from building site to gallery, it was a real pleasure to step inside and see what the space was like. And it has lots of space, art is displayed on a grand scale, and I loved it.
The opening exhibition, Revealed: Turner Contemporary Opens, is described as
Turner's painting is evidence of the power of his imagination and his curiosity about new places and natural phenomena. This desire for knowledge marked the late eighteenth and early nineteenth centuries, when many discoveries were made in science and technology and artists and scientists worked in close dialogue.

The six contemporary artists in the exhibition work in the same spirit of enquiry, invention and interest in the natural world that flourished during Turner's lifetime. Just as Turner explored nature in paint and colour, so these contemporary artists play at the borders between what we can see and know and the truly fantastic.
On entering the gallery, and looking towards the sea, which I am always likely to be drawn towards, the Daniel Buren installation (pictured above) was the first thing I saw, framing the sea and lovely blue sky in an effective manner.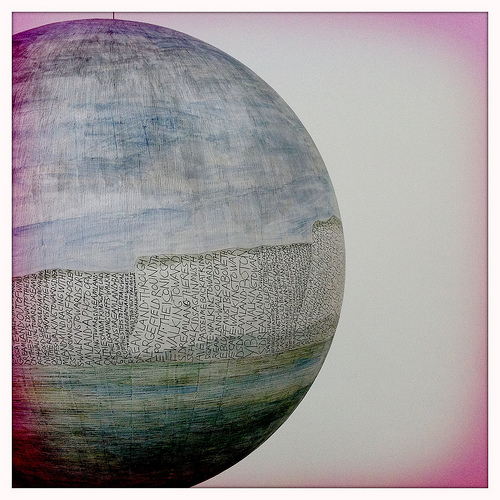 The Russell Crotty work was the highlight for me. The globes, like the one pictured above, are ink drawn on paper, fragile and beautiful, featuring poems or prose. The one above is "Walking towards dreamland" and features the coastline between Joss Bay and Margate itself, a coastlne I've walked along on many occasions whilst out walking the dog. These globes, coastlines and words are frequently found in his works.
A wonderful gallery, with some delightful opening works. Planning to sneak off for a couple of hours every time I visit the in-laws and immerse myself in it.
comments powered by

Disqus