Try Something New - Weeks 8 and 9
Week 8
Tuesday
I tried out a different book club this week. I was going to go back to the Short n Sweet one I tried last month, but they had to move their meeting, and I couldn't make it. And I'd read the book and everything! So this time I went to the WildWoman book club. The book for the month was The unexpected joy of the ordinary which anyone who knows me will recognise as a frame of mind that I often take. We did an exercise of writing down some of our ordinary joys. In so doing, I was reminded of how much I like having my positivity jug with all of its little moments of happiness held within it. An excellent exercise and interesting to see how similar a lot of the group's ordinary joys are. I found the book group to be warm, welcoming and respectful. Next month's book sounds worth-reading as well, so I've ordered a copy.
Wednesday
Sunshine at lunchtime meant that a walk to the ONCA gallery to see the Shining a light on extinction exhibition was a possibility. I found it to be a moving exhibition. Their invitation to 'shine a light' is a genuine one as the prints are partially printed with ultraviolet ink, and there are ultraviolet torches dotted around the place. I enjoyed being given permission to interact with the art more directly and differently.
Friday to Monday
We had a long weekend away. A different type of a weekend - staying in a log cabin in a forest - somewhere we've never been before - the Forest of Dean. Given the atrocious weather, storms, flood warnings and the like it was a bit touch and go whether we'd make it. But we did. We spent the weekend in a cabin at the edge of the site. It had a huge window looking out on our hot tub and into the woodlands beyond with the occasional squirrel scurrying past to keep the dog interested.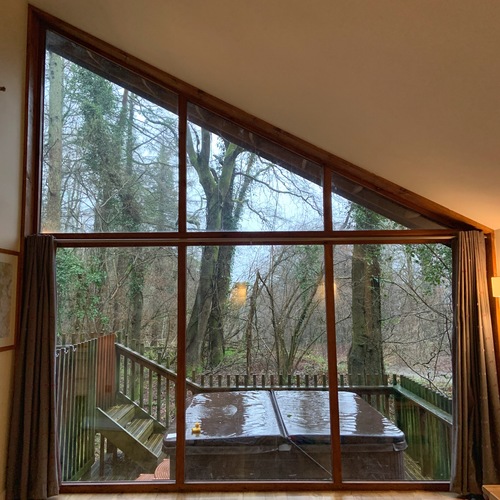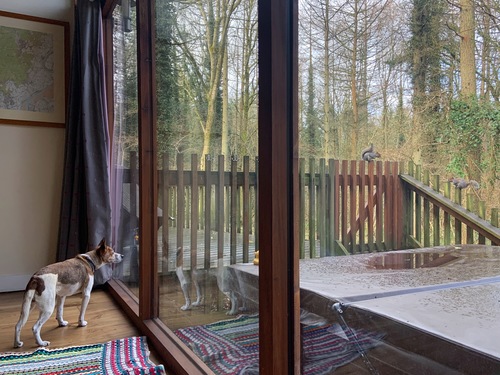 An area we'll return to.
On the way home, we stopped off at Newark Park, a National Trust place, and enjoyed a wander around the grounds finding chickens, a peacock, a folly, and some lovely carved wooden animals.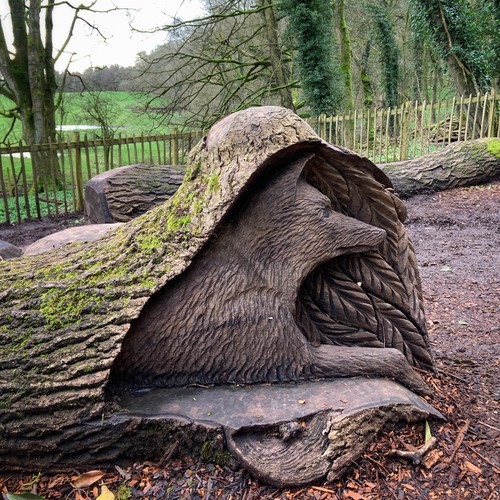 I bought life membership to the National Trust with some money that my Dad left me when he died. It's always lovely to make use of it, and have the opportunity to say a quick "Thanks Dad" when visiting somewhere.
Week 9
Thursday
Over the Christmas break I spent some time looking through the Phoenix Arts courses and spotted a two week Introduction to Bookbinding that seemed interesting. I love stationery of pretty much all descriptions. And I seem to get through a lot of notebooks. So I thought it might be fun to be able to make my own. This first week focused on an introduction to paper, and bookbinding as an art form, and moved on to paper folding and stitching. The two hours passed by quickly, and the process was absorbing. I'm looking forward to going back next week to finish my book. Here are some work in progress shots: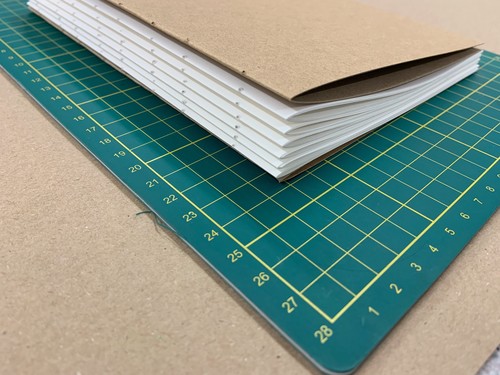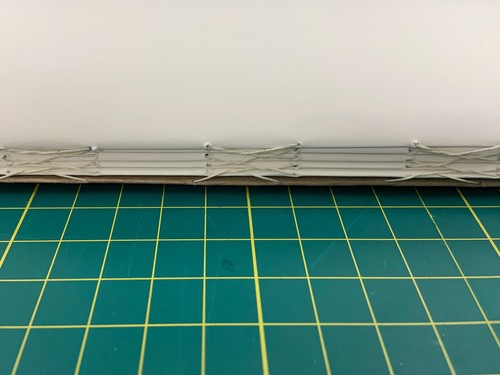 Friday
A friend had mentioned a pop up restaurant he'd eaten at and been impressed with so we thought we'd give it a go as a, slightly after the event, birthday celebration for Richard. It was a great evening with great food and great wine. The concept is about sharing food. I'm not eating meat at the moment so we ordered both the fish options and both the vegetarian options along with the sides. This left us room for dessert. Which featured a cream patisserie filled doughnut and was superb. Lots of fresh flavours, great tastes and textures. Well worth a visit for a celebration.
Saturday
A different and new bake this week - Chocolate raspberry brownies. A couple of weeks ago, I remade some chocolate peanut brownies. While enjoyable, I thought about how much I enjoy the pairing of dark chocolate with raspberry. So I decided I'd look for a recipe and give them a go. They're quite gooey, which makes them great for eating with a cake fork and maybe some ice cream, but not ideal for taking along on a dog walk. So, depending on how I plan to eat them, I may bake them for the extra five minutes the recipe mentions another time.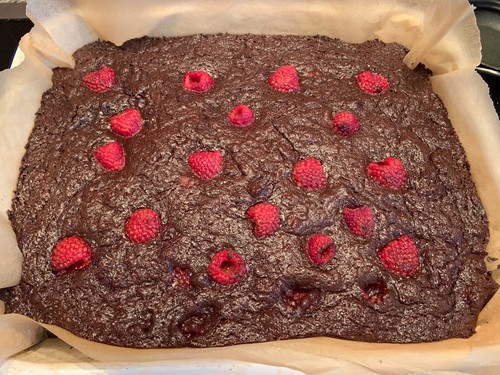 For other Try Something New posts, and the explanation of this project/intention, visit this page.
comments powered by

Disqus