Try Something New - Week 40
Sunday
We had a Sunday lunch delivered to our house. As we thought we might be out all day Sunday (we weren't) we'd swapped our usual weekend eating habits around a bit. Which meant we'd have our weekend food delivery on a Sunday. Which, in turn, meant I thought about having a roast dinner. I found Fox on the Downs on Just Eat and ordered for delivery at 3ish. It eventually arrived at 4:15pm by which point I was a bit cranky and a lot hungry. The dinner itself was good, and I enjoyed it. And the concept of a roast dinner delivery was one that had me feeling excited. So an idea to try again albeit with a different supplier another time.
I also made some chocolate chip cookies. It's been a while since I last made some and there was a recipe for Cookies for Company in a book a friend bought me years ago that seemed like an easy and quick bake. They aren't necessarily the most elegant or attractive cookies I've made. Still, they are among the most comforting and so they, perhaps with a variation or two, will be being made again.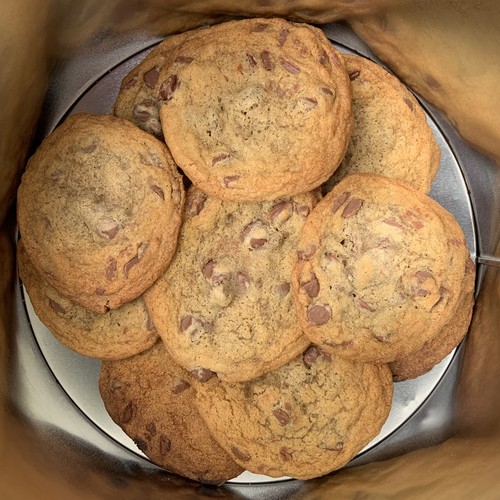 Friday
I'd spotted that Thrive had some online courses a few months ago when I was looking for nature-related learning opportunities. On Friday, I did part one of Cultivating wellbeing in gardens and nature. It was nicely put together - a combination of articles and presentations - and was easy to follow. I plan to do the second and third parts in due course.
Saturday
I finally got around to listening to the lovely and gentle The stubborn light of things podcast. Admittedly it would have worked better had I started listening in April when it started and listened to the new episode each week. That way, I would have been able to appreciate the change in the seasons and equate it to what I can see in my surroundings. As opposed to now, when she's stopped recording new episodes. But I really enjoyed sitting on a beanbag looking out of my room into my, freshly cleaned and sorted, garden space listening to three episodes back-to-back.
Brighton Fringe has moved to October this year and is offering a blend of in-real-life and virtual events We watched a virtual one last night - Aaaaaaargh! It's the One Liner Show. We chuckled. And as a format, it worked well. If I find myself at a loose end another Saturday evening, I'll be tuning in again.
For more Try Something New posts, and the explanation of this project/intention, visit this page.
comments powered by

Disqus