Try Something New - Week 33
Sunday
A friend and I have exchanged recipes a few times in recent months. One she sent me recently was for Mega Peanut Butter Cookies. A straightforward recipe with only five ingredients - self-raising flour, light muscovado sugar, peanut butter, butter and an egg. My dough ended up a bit softer than I'd have liked - it might have benefited from some time in the fridge to set a bit - but the resulting cookies have a certain rustic charm. I added some milk chocolate chips to the final few for variety.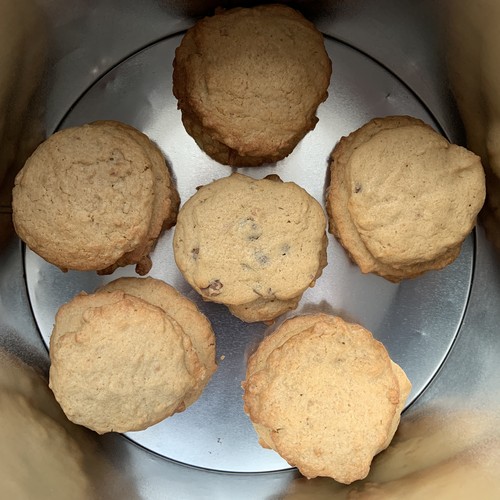 Friday
I went to the Prairie Gardens. On my own. I've been to lots of gardens over the years but not alone. I've been to museums, art galleries and exhibitions solo, but not gardens. In my head, gardens are a background to a social outing while galleries and exhibitions are much more related to my emotional reaction to something. It doesn't have to be like that, and I've enjoyed many exhibitions with carefully chosen friends. So it follows that there's no good reason why I couldn't enjoy visiting a garden on my own. I decided to make use of my Sussex Prairie Gardens season pass and spent a few hours of Friday afternoon there. I enjoyed being able to take my own path through the beds. To brush past the long grasses without worrying whether my companion would be ok. I lingered on a bench watching the water from the irrigation system splash onto the surface of the pond. And I still treated myself to a slice of the guest cake - Raspberry Bakewell.
Saturday
I finally watched Watching Rosie an excellent short film about a Grandmother with dementia and her Granddaughter keeping in touch over zoom. It feels well-observed and gently done. I was a little afraid it would leave me in floods of tears, but it didn't. It left me warmed by the thought that love and connection can still be found in these strange times, while also left me thinking about just how many families are still in this situation. This review says
It's as brief and gentle as a sigh, but this miniature by Louise Coulthard not only touches you, it leaves a faint bruise.
It's a fair comment.
For more Try Something New posts, and the explanation of this project/intention, visit this page.
comments powered by

Disqus