Try Something New - Week 3
I started the week with a bit of a wobble. What if I can't think of new things to try by the end of the year? Should I keep some aside for later? Or what if I don't have time what with the mad Christmas rush? Interesting how my brain had run away with itself. I had to slow down and remind myself that this is an intention and it doesn't matter if I don't try something new one week. Every week I do manage is a success and, by writing about them, whether in detail or in passing, I celebrate and acknowledge them.
Monday
I'd done a few chores on Monday lunchtime and so didn't have much of my lunch hour left to actually eat. There's a cafe I've walked past every day since I started working in the office that I've never been in. So I decided to rectify that. It was pretty busy, but also fast. I opted for mushroom omelette and chips. It felt good to get a 'something new' tried early on in the week. And probably a choice made because of my earlier wobble.
Wednesday
Wednesday lunchtime found me returning to the Phoenix Gallery. This time to the Window Gallery. And Natalie Papamichael's exhibition "The Society of Outsiders". This is an exhibition which includes
paintings, her drawings and a display of books, research and other ephemera that contribute to the narratives of her work
I enjoyed looking at the various photos and works that these paintings reference either directly or indirectly. An interesting way to spend half an hour and really lovely to be able to visit a gallery in my lunch break. That feels like quite a luxury.
I very much enjoyed thinking about this piece "Self-Portrait with The Society of Outsiders". The artist has painted herself in front of her own works, which feature her in different poses and styles.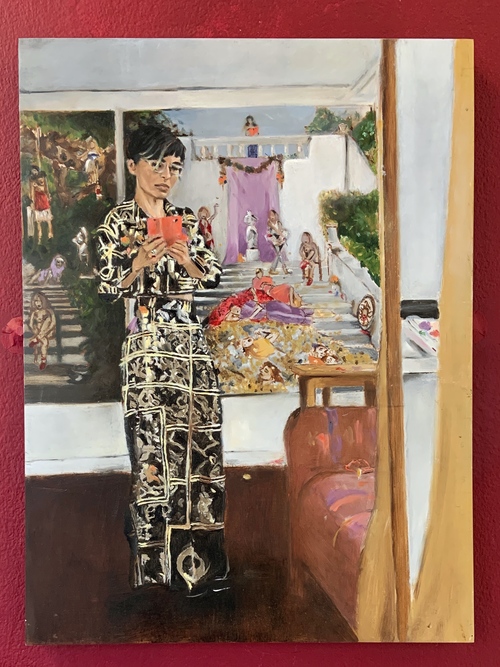 But this was my favourite. I like the impression of reflection and the monochrome nature of it.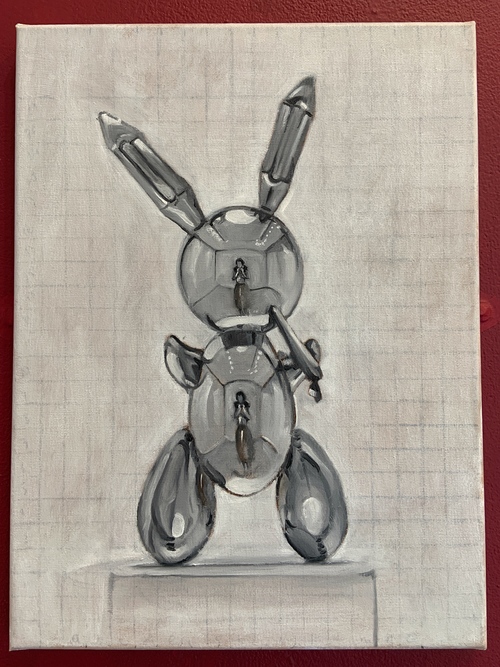 It reminds me a bit of some of the work I enjoyed at The National Gallery's monochrome exhibition. There is something special, for me, about items painted in shades of black, white, and grey, given all the colour options available. Fascinating. And having just looked back to see if I had any photos of that exhibition, I discovered that Olafur Eliasson had a piece in there. That almost certainly makes him the artist I've seen exhibited in the most galleries as I've seen his work in the National Gallery, Copenhagen, the Hayward Gallery, and most recently the Tate Modern.
Thursday
We'd been speaking about office plants earlier in the week. In fact, we'd been talking about it for much of last year). But, on Thursday, Gillian and I decided to head off to the plant shop in the open marketand buy some desk plants. It took us quite a while to make our choices, but they're rather pleasing and made me smile all afternoon.
Friday
The activity I'd chosen from The Art of Noticing for this week was one titled 'Look Slowly'. It was about taking time in front of artworks. It mentioned in the text that
A study by the Metropolitan Museum of Art in New York concluded that its patrons spend a median seventeen seconds in front of any given painting
The suggestion for this task was to spend 10 minutes with a piece of art.
I went to the Brighton Museum and Art Gallery, chose a piece and stood in front of it, with my notebook out, for 10 minutes. I had my notebook and pencil ready to take notes, because I know that this helps me be engaged and not thinking about lunch, dinner, the list of things I 'should' be doing.
The first piece I chose to look slowly at was Alexander Calder's Untitled piece from 1969. I picked it because it was bright and eye-catching, and was in a gallery where nobody else was. My initial feeling was frustration that there were reflections in the glass which meant that isolating this piece from its gallery-mates was a bit tricky. But after a while, I realised it made me feel unbalanced, and unsettled because the pattern doesn't do what I think it should. This piece challenged my need for order. A good thing to realise.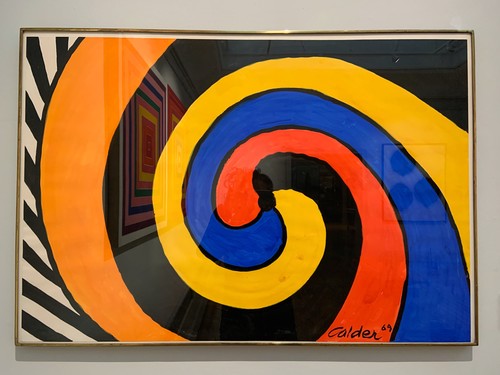 The second piece I chose was a pencil sketch - Waiting for the Tide by St John William George Drinkwater Earp. I picked it because of its contrast to the Alexander Calder piece. Simple lines. Nothing complicated. But the longer I spent with it, the more I noticed, and the more questions I had about it. It left me scratching my head a bit.
My final piece was a local landscape - Kemp Town from the sea by John Wilson Carmichael. Initially, I felt a bit overwhelmed by this picture because there was so much going on - boats, people, houses, horses. But as I spent more time with it, I began to appreciate the details that I missed on a more cursory view. I started building up my own story of what was happening that day. I left with a fondness for this picture, having spent a more extended amount of time with it.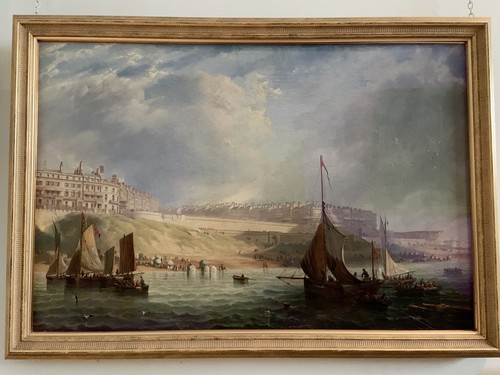 A delightful practice, and one I plan to try again. Especially at my local art gallery where I can return time after time choosing a new picture every time.
Saturday
My weekend involved a trip to Somerset with a friend who I've never been away with before. We had a workshop booked for Sunday so made a day of Saturday too. We stopped off at a National Trust place about half way through the journey, somewhere I've never been before, Mottisfont. We took a walk along the river, had some lunch, took a look in the house, and then visited the beautiful Winter Garden. It is a small part of the estate which has been planted with plants that provide colour and texture in wintertime. A beautiful idea and really well executed. More places should do this. It was a delight to the senses.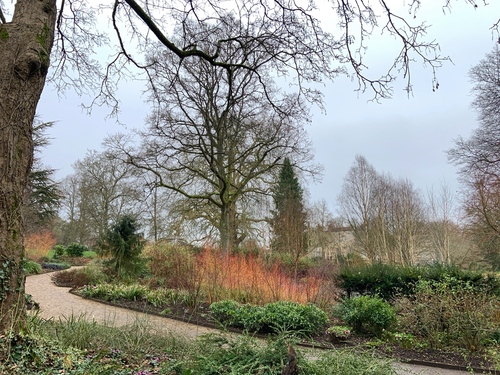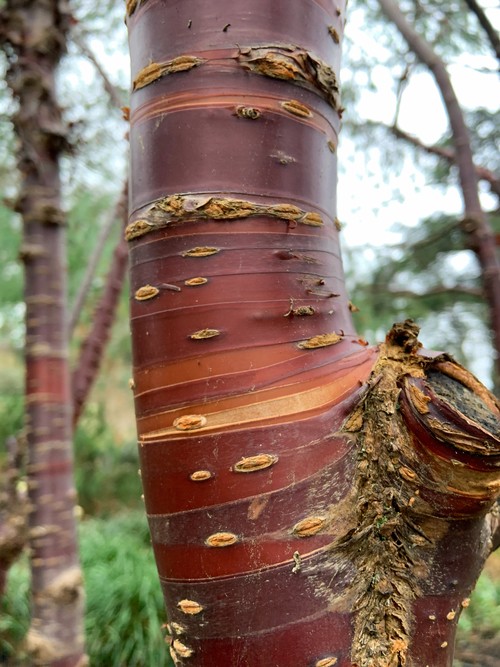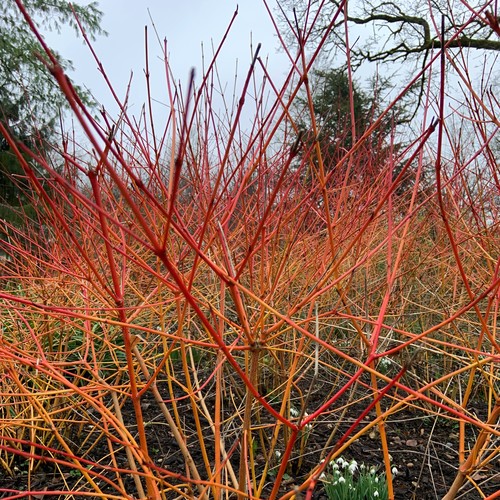 Summary
I think that how I write, and what I choose to write about will change week by week. This is especially if I'm away somewhere new because at that point everything is a new experience. In this case, I've chosen to highlight Mottisfont and the Winter Garden, and not go into details about the B&B or the local pub.
For other Try Something New posts, and the explanation of this project/intention, visit this page.
comments powered by

Disqus