Try Something New - Week 24
Wednesday
I had a new person join my team on Wednesday. So I've been doing her induction through zoom. In doing so, I realised how often I reach for a pen and paper to describe things. This is the first extra person in the Q.A. team with a few more joining over the next month or so. They will, also, have their inductions through zoom. Hopefully, I'll have worked it out by the time I get to the last one!
Thursday
A friend mentioned a Thai eaterie she'd enjoyed the other week. She said it didn't have the biggest menu, but it was tasty. So we ordered from Kemp Thai. The menu had enough options on it for us but wasn't overwhelming. It arrived within half an hour. It smelled wonderful as we unwrapped it, and I was pleased to discover that out was as tasty as it smelled. We'll use them again.
Friday
Francesca, my Alexander Technique teacher, has mentioned the theatre company Oddsocks to me a few times over the past few years. They perform Shakespeare at B.O.A.T. most years, and she usually tells me about the show. This week she mentioned that Oddsocks were going some shows from home. They did Macbeth a month or so ago, and on Friday, they did Midsummer Night's Dream. Both were 45-minute shows. Both were made with items they had at home - so rather than daggers, they used spatulas. It was live edited with footage switching between the seven or eight cameras that they'd managed to arrange - phones, laptops, anything else they had around the place. Fun and entertaining shows.
Saturday
I hadn't made any cheese scones for a while so thought it was time. Rather than using the usual trusty recipe, I decided to try one out of the National Trust book of scones. I picked cheese and herbs. I wasn't sure how the texture of dried herbs would be, so I used my pestle and mortar and made a fine tasty powder from my chosen herb mix - Za'atar. This mixed well into the mixture and resulted in an evenly distributed flavour. A success. Would do it again.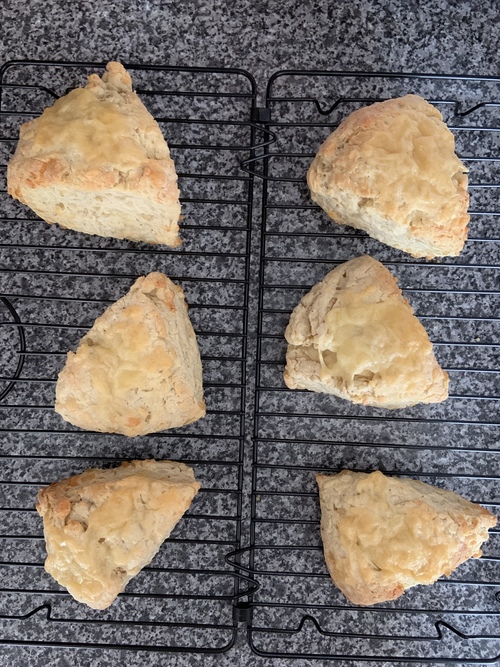 I baked some lemon and raspberry cookies. They were a sticky mess (as the recipe warned), but the flavour is lovely. I added a few white chocolate chips to the top of some as well. These are the most cake-like scones I've made, and I'm not sure I'll be repeating this one. They won't go to waste tho!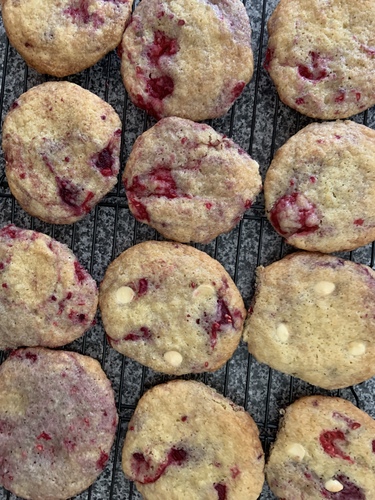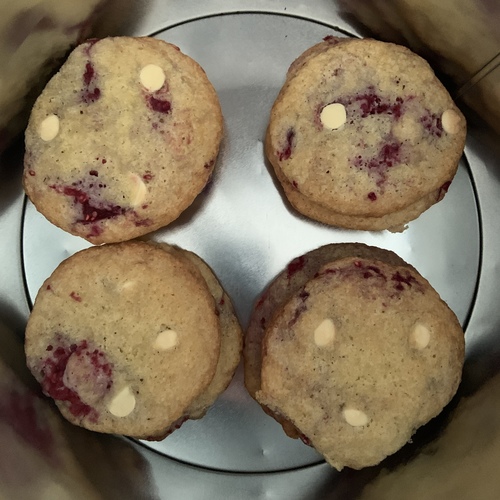 On World Refugee Day I attended an undistanced festival panel discussion on LGBT+ Refugees: Voices from the frontline. An enlightening discussion, despite some internet and audio issues. It left me grateful and humble.
For more Try Something New posts, and the explanation of this project/intention, visit this page.
comments powered by

Disqus