Try Something New - Week 15
Monday
When I was a child, I was taken to Hull City Hall to watch an orchestra perform Peter and the Wolf. I have to say that I don't remember a great deal about it. When I spotted that the Royal Opera House had released a Royal Ballet School interpretation as part of their #StayAtHome programme I thought I'd take a look. It was a lovely way to spend half an hour.
In turn, this led me to wonder what other arts organisations had shared, and I discovered this rather charming short piece from Scottish Ballet.
Tuesday
I had my first Alexander Technique lesson via zoom. I've been seeing Francesca for Alexander Technique lessons for the past 2 or 3 years now. I find it really helpful. Obviously, there are no physical lessons at the moment, so Francesca is experimenting and doing hers virtually. It worked for me. It was an interesting experience to have her voice, but not her hands working with me. One of the aspects that I hadn't anticipated was that we were in my home, meaning that it was my chair in my room that I was sitting on and standing up from. This seemed to change my reaction somehow. I'm going to give it another go next week.
Wednesday
I spotted that the Royal Albert Hall were doing Royal Albert Home showings. And I spotted that one of them was Brassed Off Live. I hadn't realised that there was such a thing as Brassed Off Live, but Brassed Off is one of my favourite films. A great score. And I can only imagine how glorious it is to have the Grimethorpe Colliery Band playing along to the film in real life. I enjoyed the 35-minute programme they put together on Wednesday - a Q&A with 7 of the stars, and then a virtual Grimethorpe Colliery Band performance of Danny Boy. I seem to have got something in my eye again.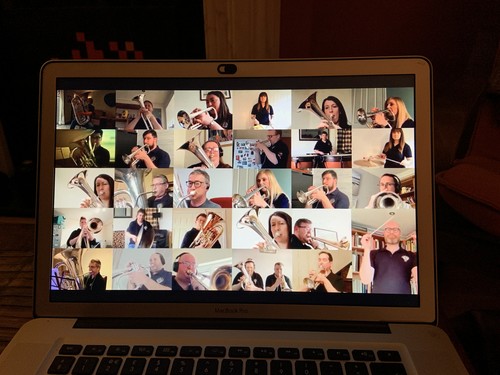 Friday
I've been checking my local supermarket's website most days to see if there are any click and collect slots. And on Friday I found one. Most unexpected. I've never done an online shop with this supermarket before and wasn't expecting to find a slot, so we had a bit of a mad hour while we filled our trolley and made our order. We get to do the collecting part on Monday evening. Another new thing tried purely because of the situation we find ourselves in.
I handed Richard the cookie book a few weeks ago so that he could choose another batch for me to bake. He selected 'Shichimi togarashi'. Reading the recipe taught me that
Shichimi togarashi is a traditional Japanese seasoning. The name means 'seven-flavour' chilli and it traditionally contains sesame seeds (both black and white), orange peel, nori, ginger, Szechuan pepper and red chiles, though variations with other ingredients are common.
I found a supplier of this spice mix online, ordered some and waited for it to arrive. It didn't get here in time to be last weeks cookies, so that meant they were planned in for this weekend.
Saturday
I was a bit nervous about the spice mix and how mouth-hurty it would be. So I did the first batch of cookies - about 10 - without any spices at all which would allow the base flavours to come through. The second and third batches all had a sprinkling, some with more on than others. They look lovely, and I've sampled a no-spice and small-amount-of-spice cookie and enjoyed both of them. There are some heavily-sprinkled cookies still to be tried.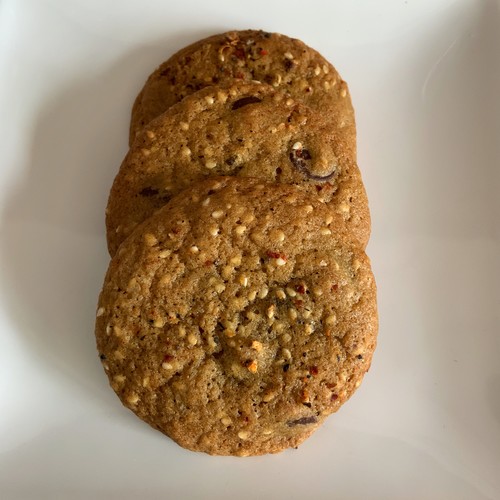 A friend of mine is entertaining her daughter during lockdown by doing some baking. She mentioned that they'd made cheese scones the other day, and after I asked, she was kind enough to send me the recipe she uses. So I made use of the oven being hot for the cookies to make some cheese and mustard scones. It's been a long time since I made scones of any variety and so couldn't remember whether they were a hard or easy bake. Turns out, these ones at least, are super easy. I followed their cutting suggestion as well, which purely involves flattening the mixture out into about an inch deep and then cutting into triangles. Not even a need to use a cutter. Perfect. I sprinkled two of them with extra cheese and left the other two as they were. Richard remarked that they were "the best cheese scones I've ever had" and I must admit that they were probably the lightest, fluffiest that I've had as well.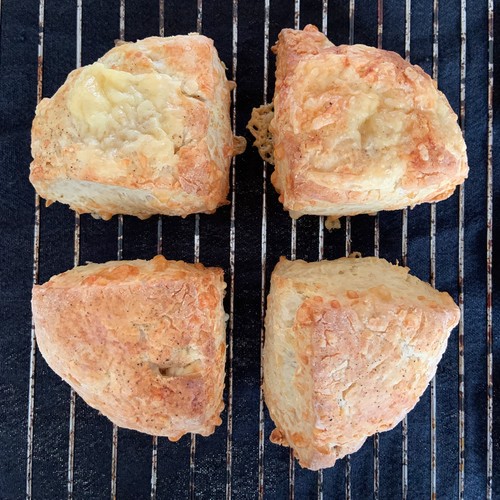 In February I got to see the Cirque du Soleil perform Luzia at the Royal Albert Hall. As part of the booking process, I signed up to Club Cirque to hear more from them. On Friday, I got an email which mentioned #cirqueconnect and said they were releasing a 60-minute special of Zed. I spent an absorbing hour watching the spectacle. And I've since learnt that this is the fourth special they've released so great to have some more to catch up on.
For more Try Something New posts, and the explanation of this project/intention, visit this page.
comments powered by

Disqus