Try Something New - Week 11
Obviously, due to Coronavirus, my attitude is being forced to switch. I am going to have to be more inventive with my ideas of 'something new' to try - there'll be no more exhibitions for a while. I guess the biggest 'try something new' for some time ahead is going to be social distancing. I'm now working from home on a 'for the foreseeable future' basis, and need to work out how my daily routine needs to change.
Wednesday
I had a conversation on twitter about supporting local cafes and restaurants by ordering through a delivery service. Dinner2go replied and wanted to point out that they were Brighton based. I hadn't realised that before.
One of the things that this social-distancing has made me truly appreciate is how much I love Brighton. There are many reasons, but some of them are the cultural opportunities - Brighton Festival, the pavilion, the museum, the art galleries (some of which I've visited already as part of earlier Try Something New weeks). And some are the wide variety of food options. It hurts my heart to imagine what will be left after many months of cancellations and closures.
There's not much I can do to make a difference. Still, one of the options available is to order food for delivery from local restaurants and show my support that way. So on Wednesday evening we ordered from Abyssinia an Ethiopian restaurant on Baker Street. I've walked past this place most days when walking home from the office. I've read the menu. I've looked in. But I'd never set foot inside. I still haven't, but I have, at least, eaten their food thanks to Dinner2go. The food was good, the service was good. I'm not sure how many restaurants will choose to open in a takeaway capacity, and how many delivery drivers will be willing to drop food off, but I pledge to order once or twice a week as long as it remains an option.
Thursday
A friend from choir sent me a link to Gareth Malone's Great British Home Chorus. So, of course, I signed up. That'll definitely count as something new.
Friday/Saturday
Another recipe from Chocolate Chip Cookies: Dozens of recipes for reinterpreted favorites. This time oatmeal and raisin. As is the case with many of the recipes in the book the dough benefited from resting in the fridge overnight, so this was actually a Friday and Saturday bake.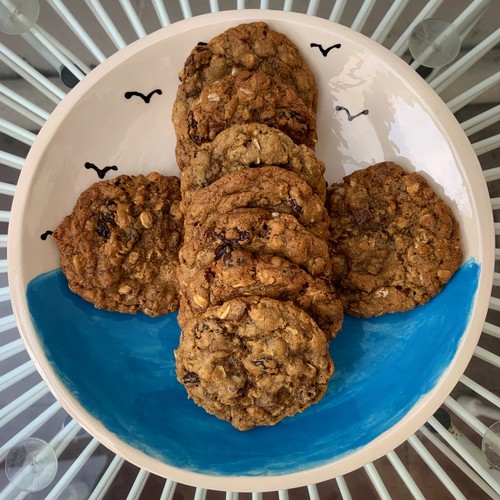 For more Try Something New posts, and the explanation of this project/intention, visit this page.
comments powered by

Disqus