Try Something New - Week 1
My first full week of trying new things when I can. And I managed a few. Here's what I've done this week.
Last Sunday, I took Skitters on one of the dog-friendly i360 flights with Richard. I was curious as to what she'd make of it. When she's in a lift or on a ferry, she lowers her centre of gravity by widening her stance. She didn't do this, so I guess she didn't detect movement. She sniffed. She had a low wag. I wouldn't say she loved it, but she didn't hate it and wasn't scared of it either. We counted it as a successful adventure. Not necessarily one that we need to repeat, but one that I'm glad to have experienced.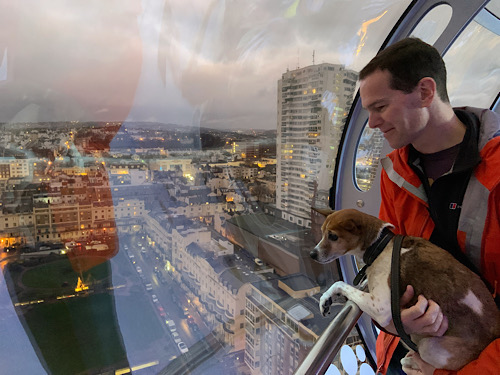 I popped to the library on Monday lunchtime to return a book and so decided to pick up some lunch on the way back to the office. I'd never been into the Brighton branch of Gails before. So ventured in, picked up a sandwich, and ate it in the office. Tasty. Would return to.
On Tuesday evening, I did the most social anxiety-inducing of the Try Something New activities of this week. I went to a new, to me, group - Brighton Laughter Club. Held in a new, to me, place - The Loft. A welcoming group, somewhat out of my comfort zone, but not entirely in a bad way, definitely in a stretching and growth way. I did laugh, both as part of the exercises and genuinely. I intend to go again at some point - though I'm not free every Tuesday so it won't be an every week occurrence.
Richard and I headed off to Komedia for Stand-up Literature on Thursday. Quite a friendly little comedy show, loosely based around literature. Some of the comedians were looser than others about the literature side of things. But we laughed and had a fun evening. So all good.
After experiencing the Olafur Eliasson exhibition, I did a little bit of research into kaleidoscopes and discovered teleidoscopes. I thought one of these might be a fun addition to the various photography gadgets I have around, so after a bit of research, and tooing and froing, I ordered one from etsy. It arrived on Thursday, and so on Friday, I took it out for a play. I'll write a proper blog post about it in due course, but here's a photo of the West Pier I took with it while walking with Richard and Skitters on Friday afternoon.
The final new thing of my week was a new cookie recipe from Chocolate Chip Cookies: Dozens of recipes for reinterpreted favorites. I bought this book last February and have, over the year, tried a number of the recipes. All successfully. This week, as I'd baked a new batch of granola, I decided to try the Granola & Chocolate recipe. They were straightforward to bake - no need to put the dough into the fridge for 24 hours - and seem to be pretty easy to eat as well!
As I said last week, I'm not sure how often I'll post an update on what I've done, but as I have some time to myself this morning, I thought I'd do a weekly review.
Update - 17 January 2020
Having made an update to the introduction of my "Try Something New" project I feel I should retrospectively add my visit to Ditchling Museum to the Kitching in Ditchling and Disruption, Devotion and Distributism exhibitions. Which is an excellent excuse to repost this photo of Joseph Cribb's gorgeous statue of St Thomas Aquinas.
For other Try Something New posts, and the explanation of this project/intention, visit this page.
comments powered by

Disqus