Today would have been my Mum's 84th birthday.
Today would have been my Mum's 84th birthday.
I use "would have" in that sentence deliberately. It "isn't" her birthday, she isn't alive, and "is" implies, to me, that she is. Neither "should" it have been her birthday. "Should" always feels to me like an obligation kind of word, so I try and avoid it when I can, and "should have" suggests a resentment I don't feel. So I've settled on "would have", as a short form for "would have been her birthday had she still been alive". Along with "died", "passed", "passed away", "passed on", whatever other phrase one hears about the end of life, I believe that an individual should get to choose how they refer to a loved one's death or life events and that others should respect that and respond accordingly. I try and do this, though it is sometimes tricky, and can change with time, and the healing process.
Anyway, that's all a digression. I wanted to write about my Mum and her birthday. Mum's birthday was always a cause for celebration in our family. Much more so than Dad's. And, as I got older, more so than mine. It was an opportunity to make a fuss of her, and we took it. The two of them often came to visit me wherever I was at the time, and, at least when I lived in London, we'd take in a West End show, or something equally special with her (one year we did a day trip to Paris!).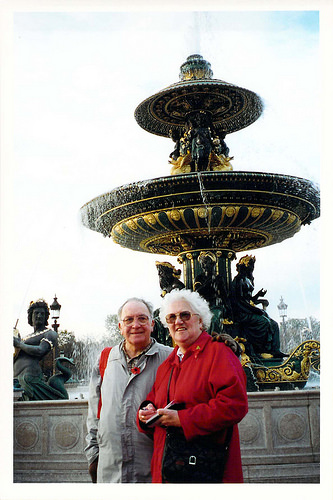 On her 67th birthday weekend in 2001, just after Richard and I had moved to Brighton, they told me about Mum's diagnosis of dementia. I wasn't prepared to hear that. I didn't understand what it meant and would mean. In hindsight, that's both a blessing and a curse. In all honesty, I don't think I was prepared to accept it for quite a few years to come. I knew it. I saw it. But I couldn't equate what was happening, and what we were losing, with my Mum. My Mum, the woman who nurtured me, who taught me to read, who taught me to love language, who gave me (posthumously) the gift of singing in a choir, who made me laugh, made me cry, smile, frown, and everything in between.
As the years progressed, and her dementia worsened, Richard and I would go to Hull for a weekend around her birthday. I remembered the other day that on one of her birthdays we signed the paperwork that put her power of attorney into action. It felt like a betrayal at the time. It was a convenient time to do it, but it felt like a cruel birthday gift. On reflection, though, I realised that it was the kindest birthday present we could have ever given her. It safeguarded her future. It meant that when Dad died, I had all the paperwork I needed to take over her affairs and that there was no interruption or uncertainty in the continuation of her care. Another year Dad, Richard and I spent her birthday weekend visiting care homes for her to move into. Again, it felt like a betrayal at the time, but again such a valuable gift to have people who love you choosing on your behalf to find a safe, friendly, warm place for you to live.
I miss both of my parents all the time, sometimes a little, sometimes a lot. Some dates are more significant than others, and this is one of the more significant. It is a bittersweet time. So many happy memories of times spent together. But also memories of the year on year decline I saw in her later years.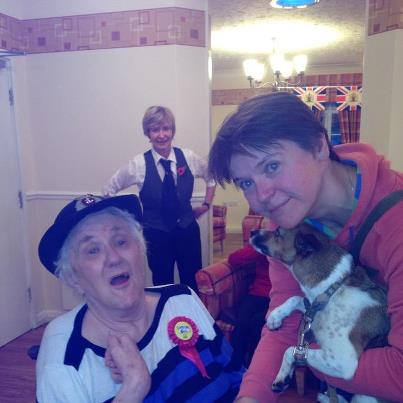 I am incredibly grateful, and feel very fortunate, to have had those happy times to miss. This brings its own sadness with it and leaves me somewhat tender today. But I am choosing, as I have done every year so far, to try and remember my Mum as the lively lady she was, to focus on those happy times. And so, this evening I'll be cooking spaghetti bolognese, raising a glass of red wine, and eating a slice of cheesecake in her honour.
comments powered by

Disqus