Today's bake: Apple and yoghurt cake
This recipe came to me via a friend who had got it out of her Sainsbury's magazine. After a quick rummage around the internet, I've found it to be this one (a sponsored recipe from Rachel's Organic by the looks of it).
I've never made a cake with yoghurt in it before, so that was fun. And the ginger yoghurt is tasty, so I'll look forward to eating more of that with my granola one breakfast-time. I had lots of fun laying out the apple slices on top - it seemed almost a shame to sprinkle caster sugar and cinnamon over the top, but I figured I'd follow the recipe in every way. At least for the first time.
Note to self: It calls for a 20cm cake tin. I have 18cm cake tins and 22cm cake tins. I went for 22cm as I figured it would be better to have a shallower cake than one that overflowed! This was probably a wise decision.
It seems to have worked. It's a really light and fluffy texture with great flavours. I'm not sure it'll last very long!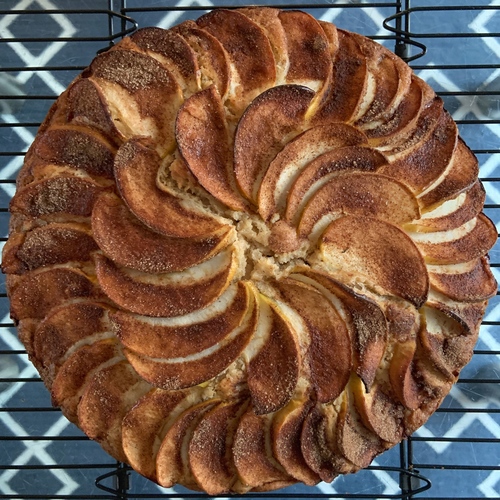 comments powered by

Disqus