Last year, when I was first starting to learn how to sew, I made a sunglasses case (photo at the bottom of this post). A couple of weeks ago I lost it. Never mind I thought. I'll make a new one. And so I did. It's a little better finished than the first one. But it is still nothing more than two rectangles of fabric and some cotton.
It's made from some flannel that I bought over winter. It isn't lined. I contemplated lining it and decided that I was just too lazy and that I'd probably just lose this one too. I made the cord from 6 lengths of Rico Creative Cotton fringe twisted together. The colour matches between the cotton and the stripes of the flannel turned out to be almost perfect. I have to say that I'm particularly pleased with the cord.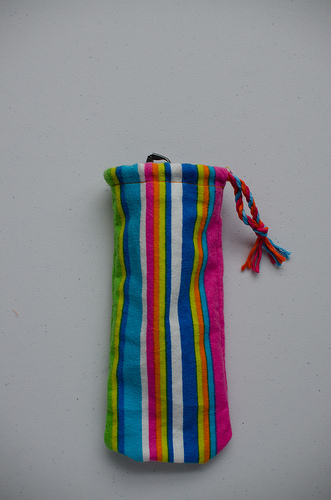 All in all, rather pleased with my second sunglasses case. And if I can make it last a year before I have to replace it with next season's version then all will be well.
comments powered by

Disqus