I still send Mum a postcard most weekends. And mostly I still send her a postcard with a family photograph on the front of it. The cork board that she has in her room is covered in them. And there are plenty in the drawer of her bedside cabinet as well. I haven't had as many conversations with staff about them recently, but I still keep sending them. Having ran down my supply, I got some more printed.
When choosing the pictures to include this time, I had to refer back to the previous blog posts about the cards I've already sent so I don't send duplicates (Set 1, Set 2, and Set 3). And as with the last batch I've chosen photos that I can write about in a few sentences on the postcard to give context to Mum/Mum's carers.
Batch One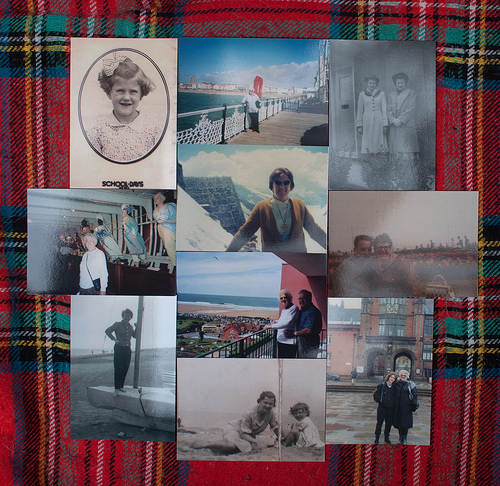 Left - top to bottom:
Mum's 1940 school photo
Mum in the Cutty Sark - mid 1990s
Mum standing on a boat on a beach somewhere

Middle - top to bottom:
Mum on Brighton pier - taken by Dad - April 2001
Mum somewhere snowy, probably Switzerland
Mum and Dad on their hotel balcony in Woolacombe
Mum and Grandma on the beach when Mum was very small. This photo was torn into two parts but was stored together. I've no idea why it was torn, whether deliberate or through being folded in a pocket book or something.

Right - top to bottom:
Mum and Grandma outside the prefab
Dad and Mum looking smiley
Mum and me (with bad perm) in front of my university buildings, early 1990s

Batch Two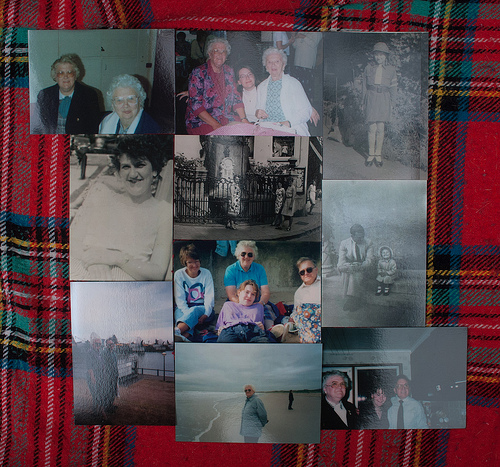 Left - top to bottom:
Mum and Grandma in the church hall
Mum on holiday somewhere
Mum and Dad at the Thames Barrier - mid 1990s

Middle - top to bottom:
Mum, Grandma and I at Gran's 90th birthday party
Mum and her friends at the Manneken Pis fountain in Brussels
Mum, Dad and I with a friend from church at Bridlington beach during a church outing. Mum had this photo next to her bed for a few years
Mum (with Richard in the background) on one of the Sussex beaches, December 2001

Right - top to bottom:
Mum in Brownie Uniform in Snaith
Mum with her Dad and a big cheesy grin
Mum, Dad and I in the family kitchen on the day after my 21st birthday

The glossiness of the postcards makes it very hard to take photos that aren't full of reflections. This time I had to drag them outdoors and laid them on a tartan rug that belonged to Mum once upon a time. This seemed appropriate. But still didn't totally irradiate the reflections. Never mind, at least I should be able to recognise them enough to avoid duplication next time I get some printed.
comments powered by

Disqus