I'm still sending Mum a postcard every weekend. And I'm still using photos from her life to continue the documentation process. There are a lot of these in her room now. Some on the cork board we bought for her. Some on surfaces. Some tucked into photo frames.
And, as with set 4 I now document what postcards I've created primarily so that when I create the next batch I know what I've already sent.
I still try to pick photos that I can write a sentence or two about. This time I've picked quite a few beach or summer postcards hoping that we have a great summer and I can draw life and the photo together.
Ordered and photographed in two batches.
Batch 1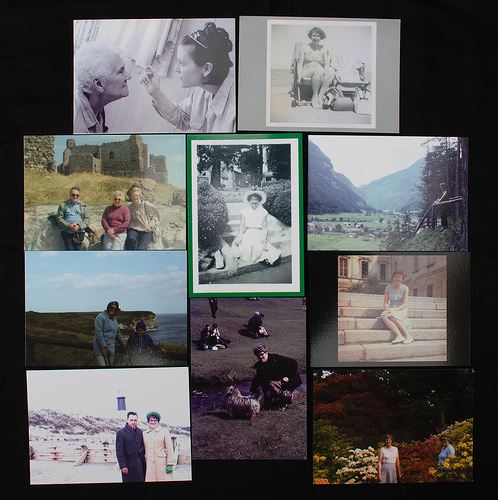 Top row: Me applying make up to Mum on my wedding day, Mum sitting on a deckchair at a beach somewhere
Left hand column: top to bottom: Dad, Mum and Anne at a ruined castle somewhere in the Lake District. Mum and I on a windy coastal walk around Flamborough Head. Dad and Mum at Spurn Point
Middle column: Mum with a hat on somewhere. Mum and Nicky (her Mum's dog) somewhere in North Yorkshire.
Right hand column: Mum in Austria. Mum on stairs somewhere - I like this photo although know nothing about it. Anne and Mum at a gardens in Scotland.

Batch 2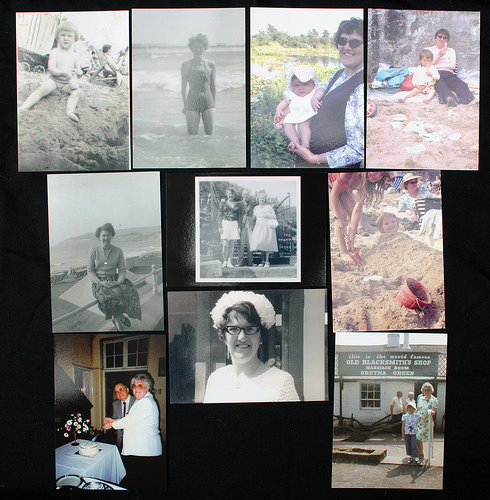 Top row: Mum on a beach as a child. Mum in the sea somewhere. Mum with me at Burnby Hall. Mum and I eating ice cream on the beach at Bridlington.
Left hand column: Mum perched on a railing at a beach. Mum and Dad cutting their silver wedding anniversary cake.
Middle column: Mum with her Uncle Arthur and Aunty Grace probably at Scarborough. Mum on her wedding day.
Right hand column: A family friend burying me in the sand at Bridlington beach with Mum in the background. Mum and I at Gretna Green.

comments powered by

Disqus